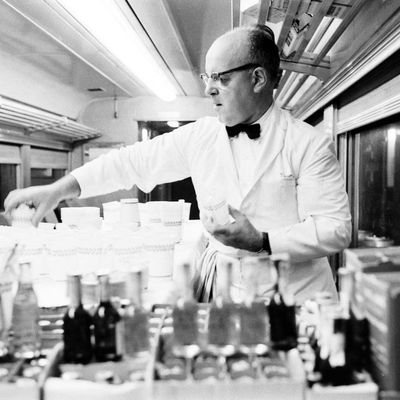 The glory days.
Photo: Alfred Eisenstaedt/The LIFE Picture Collection/Getty Images
When the MTA first discontinued bar cars on its New Haven line, it ended a 50-year tradition that somehow made drinking out of plastic cups on a train seem sophisticated. It also took away the easiest way of soothing the rush-hour crush on the country's busiest commuter-train line. (Buying beer at Grand Central before you get on the train just isn't the same.) But now, realizing the gravity of its mistake, the MTA has announced that it will bring back bar cars, much to the excitement of Connecticut commuters who want to get classy-wasted so their spouses have to pick them up.
This week, Connecticut Governor Dannel Malloy announced that state officials would purchase another 60 cars for the New Haven line, converting ten into "cafe cars." Here's the bad news: The first bar car won't be on the tracks until 2018, which is just way too long, with the rest arriving in late 2020. Unlike the old cars, with their dated fake-wood paneling, Malloy's fleet of bar cars will look modern. It's still an open question of whether Malloy's also angling to bring train boozing into the 21st century with craft cocktails, as no details on juice programs, sophisticated trash drinks, or bottled martinis have yet emerged, but by the time 2020 rolls around, that stuff might not be totally out of the question.