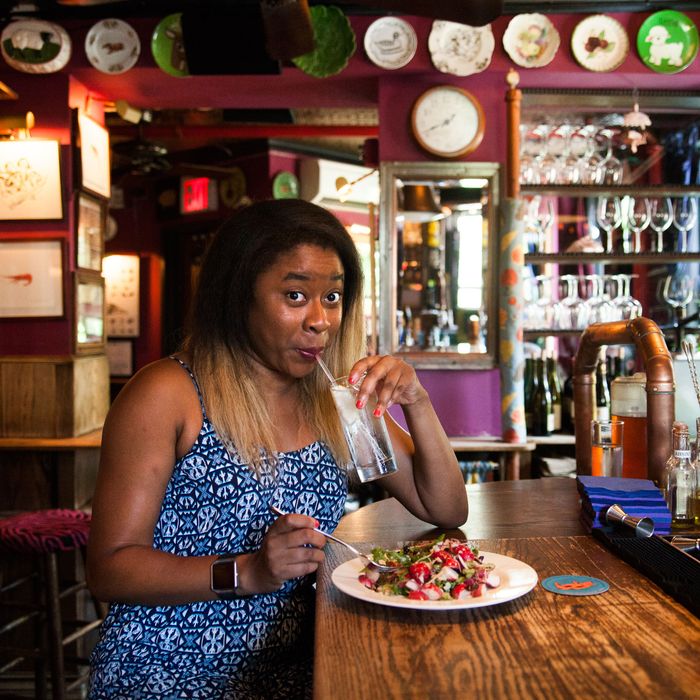 "I eat the rest of the radish salad while in my undies and Spanx."
Photo: Konstantin Sergeyev/New York Magazine
It's been a good year for Phoebe Robinson: She launched the comedy show 2 Dope Queens with Jessica Williams (to much acclaim), as well as the podcast Sooo Many White Guys, and on October 4, the (sometimes Vulture) writer's first book, You Can't Touch My Hair: And Other Things I Still Have to Explain, debuts. As a result, she's trying right now to eat healthily — "entering my Goop stage in life" — but this week Robinson hit a snag. "This diary is basically just the 'I love bread' moment of the Oprah's Weight Watchers commercial on repeat," Robinson says. "So buckle up and join me on my very not-particularly-healthy food diary!" Read it right here, and catch Robinson eating and performing on September 26 at the Taste Talks Food & Drink Awards.
Thursday, September 8
Right now, no two days are alike. Today is really the only chance I have to clean my apartment, which, by the way, is a dumpster fire. So between answering emails — "Yes, I will do that show in Queens"; "No, white dude, I will not explain to you why it's important for me to talk about race in my stand-up because, I mean, you have eyes and live in 'Murica" — and cleaning my apartment, I sneak in a late brecky, a.k.a. breakfast. It's about 11:30 a.m., so I kick the day off with this amazing cold-pressed juice by Daily Greens and a piece of toast with almond butter.
Yes, I'm entering my Goop stage in life; my apologies for this nonsense, but I'm about to turn 32, and I'm trying to get my life together. This includes: (1) doing laundry in a timely fashion instead of just buying more underwear and hand-washing it in my bathroom sink; (2) taking my makeup off before I go to sleep at night; and (3) eating more healthily, which is being encouraged by my aging and also because I'm doing more on-camera stuff. So, in closing, I now drink one 12-ounce bottle of liquid lawn a day. And I will say that since I started to drink DG on the regs, my skin has never looked better! So cheers!
As I'm wont to do, I tend to have a late lunch, especially if I'm working a lot, which is why it's great that I live in New York City, because lunch basically goes until 4 p.m. here. Unfortunately, I no longer live in my favorite neighborhood — Park Slope — and have since relocated to Chinatown in Bay Ridge. Chinatown is cool, but it's a lot of Chinese food, and I like to mix it up. Since I've been traveling a lot lately, I don't have many groceries in my fridge, but thank goodness I have my in-case-of-emergency frozen-food item: Amy's brown-rice-and-veggies bowl. It's good, but a little plain, so I eat it while watching MasterChef and pretending that I'm on a date with Gordon Ramsey. I know my saying he's hot is controversial, but I'm #StandingInMyTruth. I would tap that if I could. Deal with it. Moving on.
Since I've been working in my apartment all day, I wanted to treat myself to some food cooked by someone else. Cut to me at the new Shack Shake on Flatbush Avenue. I order a Shack double burger (two patties) and some fries to go and share a taxi with a stranger, which is something I will never do again. Not even if there is some World War Z zombie apocalypse. I will risk death and wait for the next cab because people in NYC are cray cray benay nay.
So this cab pulls over and a woman inside goes, "He's about to drop me off. Jump in, and he'll take you the rest of the way." I get in, and she's immediately telling me too much about her life. Then we pull up at a stoplight. There's this white family on the corner. Not sure what's happening, but the kid is screaming. I'm think he maybe pooped his pants and they're trying to wrangle him. The woman leans across me, smashing my double Shack, rolls down the window, and yells at them about how they are terrible parents and scarring him for life. The parents look at us, and I'm literally doing the Homer Simpson–fade–into–grass GIF. I'm trying too hard to become one with my seat so they cannot see me. But they totally see me. Then she rolls up the window, and we drive away. She doesn't apologize to me for crushing my food, and tells me that she should've reported those parents. I say nothing because I'm sad about the crushed burger. #Priorities. And then we get to her apartment, and as she leaves, she tells the cabbie that his car stinks and he needs to wash it.
What a journey. I think if everyone had to go through that in order to get their fast food, we'd probably eat less of it, right? Or maybe not because I get home, take off my bra, put on a Coldplay T-shirt, and eat my delicious and deformed Shake Shack meal while listening to Countess Luann's "Money Can't Buy You Class." #DrowningInMyTruth.
Friday, September 9
Today is a travel day. I'm flying to North Carolina ("North Carolina! Raise up!" — I will love you forever because of that song, Petey Pablo) to do stand-up with Nikki Glaser at Duke University. She's so funny. Since it's an early flight, at 8 a.m., I have to have breakfast super early, which I never do. So I down a bottle of Daily Greens Purity before I head to the airport. When I land in Raleigh, it's still morning and I'm super hungry because liquid lawn isn't all that filling. I stop by a Starbucks and grab a croissant. Then as I'm walking to ground transportation, I see another Starbucks that has breakfast sandwiches. I get a sausage, egg, and cheese from there and decide to have that and save the croissant for later.
I take a 30-minute nap, which turns into a three-hour nap. Whoops! I wake up and I'm hungry, as it's 4:30 p.m. and I haven't eaten since 9:30 a.m., so I go downstairs and buy an apple and have that along with the croissant as a mid-afternoon snack.
It is now time for the show. I go to the hotel restaurant and get an Asian chicken salad to go. I don't want to diss anyone because making good food is hard, so all I will say about the salad is that they gave me a spoon to eat with it because they were out of forks. If you can't get utensils right, boos, the food is going to be boo boo. Anyway, the salad is disappointing, and Nikki and I kick butt on our show. Afterward, Nikki and I do a meet-and-greet with some of the student-activities members, and we get to munch a little on a veggie plate. I have a handful of carrots, and then Nikki and I bounce.
I'm back at the hotel, and I want to have a little dessert, so I order the molten lava cake and only eat half of it because it's only half-warm. I abandon that dessert, go to the vending machine, get a bag of Doritos, and eat them while watching the episode of Mad Men where Peggy gives that stranger a hand job in a movie theater, and all I can think is What a perfect day.
Saturday, September 10
Flying back to NYC in the morning. At the airport, I get another Starbucks sausage, egg, and cheese sandwich and board my flight. I get back to NYC at noon, and I'm still feeling sick. Did I mention that earlier? Well, yeah, I've been sick for the past five days because I do things like work all the time and travel, so I get back to town and cancel a stand-up gig and watch some U.S. Open.
Watching tennis makes me feel like I'm working out, but I'm not working out. I'm trying on Tracy Reese dresses because I'm covering her fashion show tomorrow for the lifestyle website Brit & Co. All the dresses fit beautifully and make me go, "Oooooh, so my body is not the problem. It's the fact that I'm still shopping at Forever 21, which does not take into account that grown-ass women have hips and thighs and butts." As soon I finish trying on clothes, I drink a Daily Greens Elevate and head out the door because I need to run errands.
I have an "In Conversation" with Jessica Bennett because her new book, Feminist Fight Club, is coming out, so I have to moderate a discussion on that. I head over to Staples and get index cards and glue sticks so I can get my James Lipton on and have all my questions printed out and organized. This makes me hungry, so I eat an apple fritter from Starbucks and then go grocery shopping at Whole Foods and to Target. It's now 10 p.m. Way too late for dinner. So while I'm printing out and gluing questions onto index cards, I eat two turkey-jerky sticks and a bowl of popcorn.
Sunday, September 11
It's the day of the Tracy Reese fashion show! This is my very first Fashion Week event, so I'm jazzed about entering this world. My makeup person Delina and I gab while I drink a Daily Greens Harmony, and then we're out the door at noon.
Immediately I'm put to work. While waiting for Tracy Reese to chat with me, I sit down to eat half a turkey wrap from Fairway (so good!) and a handful of fruit. We wrap at 4:30 and I drink half a green tea and head home. I'm pretty hungry, so I snack on some applesauce, a jerky stick, and a bowl of popcorn. It's ridiculous, but whatever. It's what I want to eat. After resting and watching the men's U.S. Open final, which was amazing, I end the night with a southwestern-style chicken salad from Whole Foods and a cookie.
Monday, September 12
I did the thing I hate doing when I get busy, but I totally skipped breakfast. Argh! But I have a good reason: I was doing laundry all morning, and then I had to head into the city and run errands. So the only thing I had to eat while in the city was a Daily Greens Renew and a turkey-jerky stick. I return home and drop my items off and change clothes because I'm going to a private iPhone 7 event before I do three stand-up shows.
I go to the event (my work wife Jessica Williams is also there), and we think it's going to be at an Apple store, so we dress down. I'm wearing Target leggings, an H&M tank top, and a hoodie wrapped around my waist, which when you're a teenager is code for "I'm on my period and just bled through my clothes," but when you're in your 30s, it just means, "IDGAF. I know who I am, and I'm cute regardless of what I'm wearing." Anyway, I arrive to meet up with Jess, and as the elevator doors open, I see Serena Williams, and she's looking amazing. Michael B. Jordan is looking fooooine. Diane Sawyer. Tim Cook. I basically want to throw myself out the window because why am I wearing the "I bled through my pants during third period" hoodie look?
I make the most of the situation. Serena says hi to me and my vagina quivers. I'm sure that's a universal response to her acknowledging one's presence, whether you have a vajeen or not. Jess and I mingle, and I ate about six hors d'oeuvres, which could fit in the palm of my hand. Jess and I leave. And I stop by Aldo shoes to get some new kicks for my upcoming book tour. Then it's on to my stand-up shows.
My first one is at UCB East. I go up about ten minutes after I arrive and have a fun time. I have no time to hang afterwards because it's on to Queens for my second show. I get an email from Milena, my publicist, alerting me that a couple of magazines have mentioned my book in them. So I go to a magazine shop on the way to the subway and pick up those issues and gum, which is serving as my dinner right now. I get all the way to Astoria literally ten minutes before the show ends, and then a comic Myq Kaplan and I head over to Park Slope to do another stand-up show. I go on around 11:30 p.m. and have the best time in a long time. Show wraps at midnight. I take a cab home, and I eat a bowl of gluten-free cheese puffs while watching an old Louis C.K. special and then go to bed.
Tuesday, September 13
I wake up and do the last of my laundry. I usually do laundry every four to six weeks, because it's tough for me to bring the mountain of dirty stuff over to the laundromat all by myself, so I have to do it in installments. I finish laundry and reading a book, and then I jump in the shower and get ready to go do a photo shoot. When I get out of the shower, I realize I haven't eaten yet, so I devour a turkey-jerky stick while I'm flatironing my weave, and then I head out the door.
The photo shoot is for this article, so I arrive at the Spotted Pig, one of the cutest places, and I order a radish salad and a vodka-soda for the shoot. The shoot's over. I eat half the salad and only have four sips of the vodka-soda. It's too early in the day to be drinking, and I'm not used to it. I take the rest of the salad to go, and I head off to go clothes shopping for my book tour.
I hit up Zara and get some Carrie Bradshaw–inspired frocks. Then I go to Aldo shoes and get some more shoes, and I notice my salad is leaking, so I head home. I eat the rest of the radish salad while in my undies and Spanx, and change into my outfit for the "In Conversation" I'm doing with Jessica Bennett. I head up to Barnes & Noble on the Upper West Side and have the best time with her.
Then I haul ass down to the Ace Hotel to perform on Mara Wilson's book launch party for Where Am I Now?, which is also another fantastic book. I'm going last on the show, and I get there right in time to go up, so I drop my things and then tell some stories. I'm done, and then I sit back and watch Mara do her thing. What a badass. Since I had a feeling I wouldn't be able to eat dinner, I packed a Daily Greens Elevate and eat that while talking to Mara's publishing team. And I sneak in an Oreo cheesecake cupcake. It's amazing. The clock strikes 11 p.m. and I'm pooped, but it was worth it to be there for fellow badass ladies who are making great art. I say good-bye to Mara, and I take the train home.