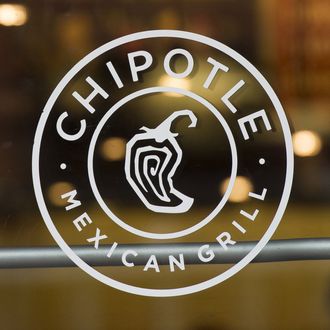 "Brothel that serves food" is definitely a label Chipotle wants to avoid.
Photo: Saul Loeb/AFP/Getty Images
Chipotle is stuck trying to manage the fallout from yet another worker complaint, only this one makes wage theft sound not half-bad: A Houston jury has awarded $7.7 million, plus another million in legal fees, to a woman who was groomed for sex by two of her store managers when she was a 16-year-old employee. An attorney for the worker, who's now 19 and lives in another state, presented evidence showing she was forced to have "more than 50 [incidents of] unprotected sexual intercourse" with her supervisor in 2013 over a four-month period, several of them apparently while at their Houston-area store. (The second manager was an accessory who "helped make it happen.") The woman's attorney says that, all told, it averaged out to a sexual encounter every three and a half days. He described the store as "almost like a brothel that just served food."
In a statement the company certainly wished it didn't have to write, Chipotle said it cares "deeply" about employees, but argued that "even our rigorous policies specifically designed to protect our employees cannot prevent private relationships that happen away from the workplace during non-work hours." The statement adds they "continue to offer our support for this former employee, and hope for her wellbeing."
Neither manager works for Chipotle anymore, and the abuser has allegedly fled to Mexico, though the woman's attorney claims this man is now taunting her family remotely via social media. According to the local news, the jury didn't need long at all to make its decision about the woman's case: "Only three and a half hours," her attorney told Click2Houston, "and I think half of that was eating a pizza or getting a lunch." The good news for Chipotle is, from here on out, any lawsuits it faces really can't get any worse.