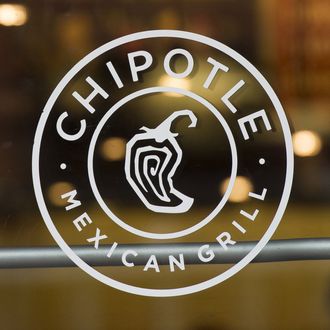 The company says it "does right by our customers."
Photo: Saul Loeb/AFP/Getty Images
Let's hope Chipotle doesn't pay its lawyers by the hour, because that could be turning into quite the legal bill: On top of reports showing how full the legal team's plate already is since the food-safety debacle began, Reuters adds the company's also spent the past six months discreetly paying financial settlements to more than 100 customers who got sick in the fallout last year. These people all had medical tests verifying their burrito-borne illnesses, so Chipotle had little to gain from fighting the claims in court. This strategy — a completely common one, it's worth noting — sealed their contents and saved the company from another round of public embarrassment.
Spokesperson Chris Arnold tells Reuters Chipotle was simply trying to "make things right for people who were affected by any of those incidents." The amounts it paid each customer are confidential, but Bill Marler, the lawyer who represented about 100 of them, said the chain's handling was "textbook appropriate," and noted the company has resolved all of his clients' claims but one.
It's not out of legal hot water yet, of course: Chipotle still faces a federal probe into food safety and two separate lawsuits filed by shareholders. According to the Post, judges are even openly mocking the executives now: Mark Crumpacker, who used to be in charge of Chipotle's recovery, appeared Thursday in Manhattan Supreme Court on charges of possessing cocaine he was probably using to cope with the disaster. The judge apparently admitted he should "put the stupid puns aside," but couldn't resist using phrases like "food for thought" and "chew on this" anyway.