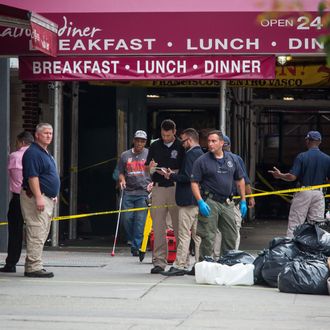 The situation outside Malibu Diner on West 23rd Street.
Photo: Michael Nagle/Bloomberg via Getty Images
Chelsea restaurant owners say they've seen a sad, if somewhat expected, drop-off in business since Saturday's terrifying street bombing. Places that are usually busy are recording steep losses — $25,000 in the case of a Tres Carnes on West 22nd Street, a block from the explosion site. Owner Michael Sinensky says business has fallen by 50 percent, and the Post reports it's the same story at Juice Shop, Flavors Café, and eateries elsewhere on that block.
The 24-hour, decades-old Malibu Diner on 23rd Street was open Monday and even hosted Mayor de Blasio around lunchtime, but manager Roberto Huerta says "it's slow" nonetheless, and very few locals have trickled back in. The one regular who did griped to the Daily News, "They didn't have specials tonight, so everything is not quite back."
People in the neighborhood are ordering lots of GrubHub instead, naturally. Sinensky says several called in orders to Tres Carnes and explained it's because they're "not comfortable going out yet," and he thinks some sort of promo or incentive to encourage eat-in visits might be in the future. For real proof, though, look no further than the Domino's across the street from where the explosion happened: This location of the chain at the top of no ravenous New Yorker's list stayed open all weekend and did "brisk business," according to a manager there. He even says customers got mad "because we're not doing delivery on time because it's too busy," reminding everyone that, even amid tragedy, hungry people in this city are impossible to please.