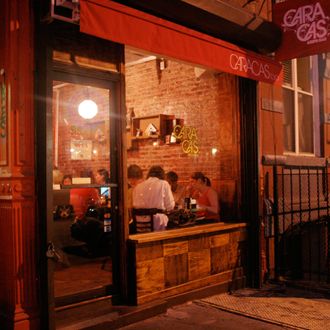 Caracas Arepa Bar has called this East Village block home since 2003.
Photo: Shanna Ravindra
A fire broke out at Venezuelan-food trailblazer Caracas Arepa Bar's East Village restaurant several hours after it shut down for the night. Building residents first reported smoke and a strange smell around 2 a.m. The Fire Department cleared the situation, co-owner Maribel Araujo says, only to be called back by the same residents, who woke up to much more smoke and a stronger smell at 5:30 or 6 a.m. A fire was then discovered between the basement and first floor of Caracas, by which point it had done enough damage for the restaurant to have to shut down indefinitely.
While the street-facing front of Caracas was spared, half of the restaurant — including the kitchen, bathroom, refrigeration, part of the office, and the back half of the basement — essentially "burned down," Araujo says. Walls are ruined, the basement was flooded with a foot and a half of water, and there is currently no electricity or gas. No one was hurt, Araujo says, and the fire was contained to the restaurant. They will continue to serve arepas in the East Village as Caracas Arepa Bar To-Go, separated from the restaurant by Luke's Lobster, during lunch and dinner.
"It's not just a little thing we can fix quickly, put drywall up, and keep going," Araujo says. Getting back to business will take some time: Leases and inventory need to be looked at, and conversations need to be had with lawyers and insurers. "Maybe we'll relocate, maybe we'll try to rebuild this one. At this point, I'm not sure."