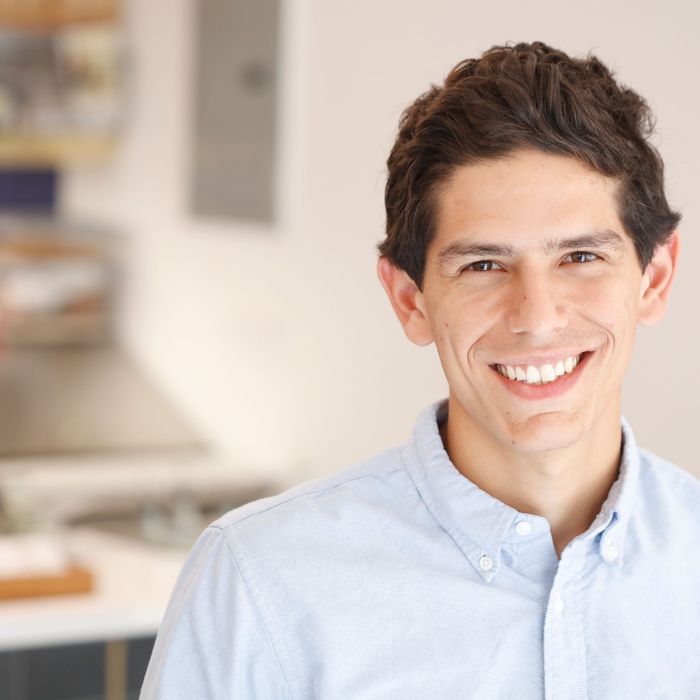 Café Integral's César Vega.
Photo: Melissa Hom
It's opening day of Café Integral's brand-new Nolita coffee shop — the four-year-old company's only stand-alone location — and a first-time customer approaches owner César Vega. "My name's Andres; I'm from Nicaragua," he says. "That's how I found your place."

This couldn't be a more fitting introduction: Vega is Nicaraguan – born in the city of Jinotepe, and then raised in Miami — and he launched Café Integral with the mission of championing the country's coffee, buying beans only from Nicaragua and roasting them in Bushwick. "I've always loved being Nicaraguan more than anything else," Vega says. "When I was young, I wanted to be a marine biologist. Then I became passionate about photography. But the only thing that I've always been excited about is being Nicaraguan. I think I was trying to find a way to root myself back."
Vega actually started Café Integral when he was quite young — just out of New York University, age 23, and (still to this day) baby-faced. He realized that Nicaragua produced "amazing, world-class" coffee, but he couldn't find it in New York. "That got me curious, so I wanted to import just 500 pounds of coffee," he says. He traveled with his grandparents back home, drawing from his family's network to connect with farmers, and ended up purchasing 3,000 pounds of beans. The coffee sat un-roasted in a spare bedroom in Vega's uptown apartment, while he tried to "hustle it" to other coffeehouses. "My idea was to get the Stumptowns and the La Colombes of the world to believe in Nicaraguan producers," he explains. "But I went door to door, and no one gave me the time of day."

Around the time that Vega thought, Fuck it, and purchased a roaster for $10,000 on eBay, his friend Olivia Wolfe came over and asked if he'd like to open a coffee bar inside her new clothing store, American Two Shot. He didn't hesitate to say yes, but he was, admittedly, naïve.
"You never realize that coffee and flavor have little to do with success," he says. "My opening blend — I was convinced it was one of the best I had ever tasted and that there was going to be a line out the door. I cannot tell you how convinced I was that this was true. It didn't happen, of course, but, slowly but surely, we hustled and people kept coming in."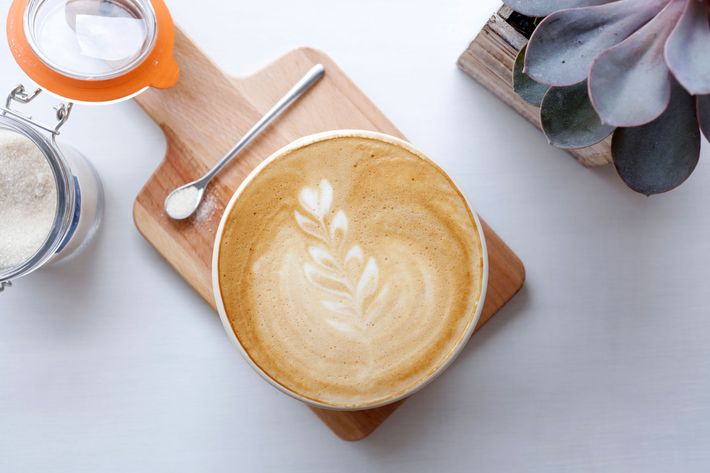 Café Integral has become somewhat of a cult favorite in New York, and it has earned enough attention that the Freehand asked Vega to open a coffee shop inside of its Chicago hotel. He hopes to grow with the hotel and expand to Miami and Los Angeles, but first came a brick-and-mortar outpost in New York, which opened at 149 Elizabeth St. last week. Egg Shop's chef, Nick Korbee, recommended the space next door to his restaurant, which used to house a "hip dry cleaner." Vega designed the café himself — it's light and bright, in the style of New York's Australian restaurants — and finished the build-out in an impressive seven weeks.

"I felt the need to grow and have something to show for it — just to have our name on the door, finally," Vega says. "I don't think the core of what we want to do is different, but this is a full iteration of what we're about." Within the four years since Vega started Café Integral, though, the coffee industry has changed dramatically: Peet's Coffee & Tea acquired Stumptown and Intelligentsia; Blue Bottle has accepted more than $20 million in funding; La Colombe is focusing on the "fourth wave" of coffee — cold, canned beverages. There are more opportunities than ever before to monetize small coffee companies, and that's certainly going to impact Vega's business strategy moving forward.
"Coffee now has that big-money cachet," Vega says. "An entire class of shops graduated. They were decidedly not Starbucks, and now they're of a different school. In that sense, it's almost like a Breakfast Club wrong-table-at-the-cafeteria thing. But I think that because of the amount of passion and intelligence that coffee people have — the obsession and competitive nature of the coffee roaster, taster, barista — when you take a step back, of course they're going to go big, because they're insane. We're crazy about what we do, and that's great."
For Vega, it all comes back to his earnest pursuit to spotlight Nicaragua. His customer, Andres, asks how often he returns, and Vega proudly says four times a year. ("Oh man, that's awesome," Andres exclaims.) "The bigger we are, the more we can do for Nicaragua," he says. "When you're growing and excelling, you have more purchasing power. I'm able to walk onto a farm and say, 'Hey, I want to buy all of this lot. Don't be stressed about finding another buyer.' That peace of mind means so much. It's empowering."