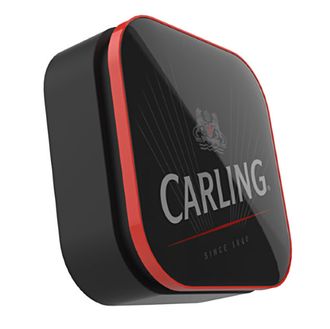 Ideal for a fridge door inside a safe.
Photo: Carling
Annoyed at having to physically visit fancy bars every time you want to receive alcohol at the push of a button? You're in luck (assuming you're British) because England's most popular beer for decades, Carling, has introduced a device that allows thirsty owners to replenish supplies with a single push in their underwear at home. Parent company Molson Coors calls it the world's first beer button and boasts it's "already up and running as a fully functional product." It attaches to the fridge, and with a mere tap, possibly even an inadvertent one, it communicates to an app that it's time to order up more brewskis — Carling brand, of course. Users can set it to purchase from any of four different U.K. supermarket chains (Tesco, Asda, Morrisons, or Sainsbury's).
The timing surely strikes Amazon as a bit coincidental, as Dash buttons literally debuted in England last week. Carling's unsuspecting new rival brags that orders via Dash have grown threefold in America since the 2015 release, so the brewery is probably banking on a spike in popularity and the winning combo of poor impulse control plus serious miscommunication during house parties.