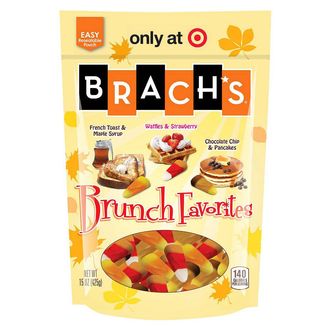 Downright frightening.
Photo: Target
Apparently hoping to combine America's two most #basic crazes — brunch and limited-time novelty flavors — with the bonus of high blood sugar is another new candy corn from Brach's. For $2.50 this Halloween, Target shoppers can grab these exclusive variety bags of "Brunch Favorites," which occupy a new class of weird and unnecessary for a candy-maker that's already introduced birthday cake, pumpkin spice, and caramel-macchiato flavors.
The 15-ounce bag includes much waxier versions of French toast, strawberry waffles, and chocolate-chip pancakes. Critics at PopSugar gave them a sampling: The smell is "very reminiscent of a Yankee Maple Pancake candle," and they report their feelings were "very mixed" overall. That might be because Brach's played it too safe with this gambit: As any frequent weekend midday restaurantgoer knows, standard brunch laws require there to also be eggs Benedict, chicken and waffles, bottomless alcoholic beverages, something gluten-free, and ideally some sort of avocado toast.