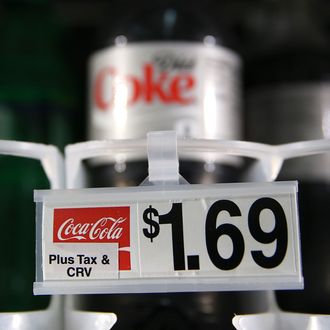 Big Soda is very worried about the "everyday purchasing power" of Philadelphians.
Photo: Justin Sullivan/Getty Images
It took a while, but Big Soda has kicked off its long-anticipated legal challenge to Philly's impending soda tax. The American Beverage Association — the lobby group Coke, Pepsi, and other soda makers belong to — yesterday asked a judge to declare the tax invalid before it takes effect in January. The trade group contends the 1.5-cent-per-ounce levy violates state law by "meaningfully diminish[ing] the everyday purchasing power of Philadelphia residents." The industry's best argument, it seems to feel, is that the measure is a regressive tax that will fatten Philadelphia's coffers by emptying the pockets of "the people who can afford it the least," as the ABA's chief counsel put it to Reuters.
City officials wasted no time defended the legality of the tax, which is supposed to help fund citywide pre-K. Mayor Jim Kenney said he thinks what the industry is doing is "repugnant," though added he's "not surprised" given "the $10 million dollars they have already spent opposing the tax." At least publicly, he's not showing too much concern, though. "I have no doubt we'll be successful in defeating the lawsuit," he said in a statement.