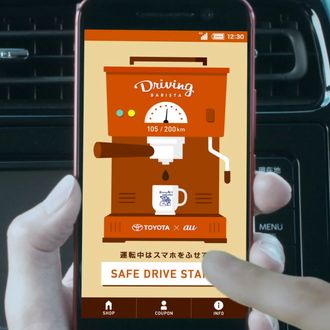 Toyota, maker of cars with not-always-great airbags, has released a new safe-driving app in Japan that rewards drivers who avoid distracting activities with free coffee. Specifically, the company would prefer if you didn't use your phone while you're driving. So they invented an app that basically bribes you with coffee.
Users open up Driving Barista, as the collaboration with Japanese wireless company Au is called, once they hop in the car, then place their phone facedown and flat for the trip's duration. The app counts the distance the driver travels, and once they hit 100 kilometers (about 60 miles), it bestows a free cup of coffee from Komeda Coffee, a popular Japanese coffeehouse chain. Drivers can get another free cup every time they travel an additional 200 kilometers.
The app seems surprisingly shenanigans-proof: It enlists the phone's GPS and internal gyroscope, and if a reorientation of the screen is detected while the car is moving, it starts you over and flashes a large "FAILURE" in all caps across the screen next to a pic of spilled coffee.

Of course, past studies in America have shown 80 percent of accidents actually involve food or drink, so Toyota would probably also like it if you enjoyed that free coffee at the café.