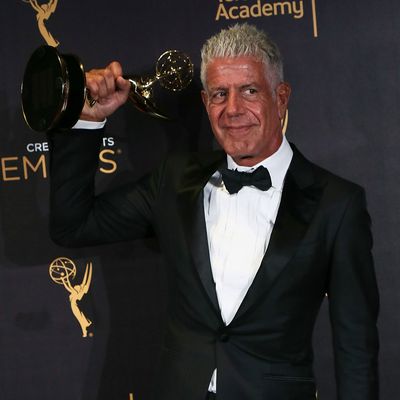 Like a boss.
Photo: David Livingston/Getty Images
Anthony Bourdain's awards streak continues: At Sunday night's Creative Arts Emmy Awards, the chef turned writer turned media mogul's Parts Unknown once again took home the trophy for Outstanding Informational Series or Special. Bourdain essentially owns that Emmy at this point, having won it every year since Parts Unknown debuted back in 2013. That year, the show also won an award for Outstanding Cinematography for Nonfiction Programming. And of course Bourdain's previous show, No Reservations, was a constant presence at the awards as well.
Eventually, Parts Unknown will come to an end, at which point Bourdain will either start a new show that will also go on to win plenty of gold statues, or he'll bow out of TV for a bit and graciously allow someone to win the award — maybe.