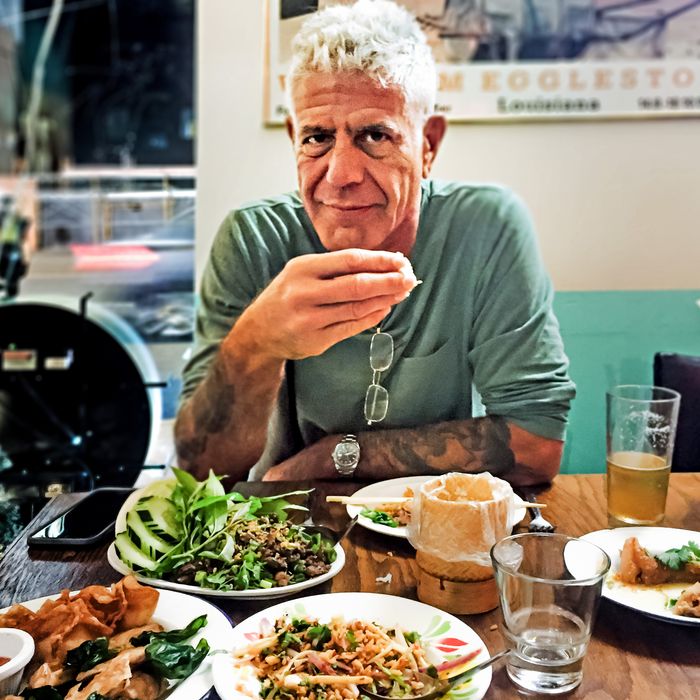 "The pig tails alone are worth the flight to L.A.," Bourdain says of NIGHT + MARKET.
Photo: Laurie Woolever
The Grub Street Diet debuted ten years ago, and to celebrate, we've asked some favorite subjects to once again chronicle everything they eat and drink. In 2010, Parts Unknown host Anthony Bourdain cured a hangover with "supermarket ham on whole-wheat bread slathered in a shitload of mustard." Six years later, the recent Emmy winner — who has a cookbook coming out next month — tries to make (slightly) healthier choices: "Because I've been doing jiu-jitsu, I'm a lot more mindful of how much I'm eating and drinking," he says. This didn't stop him from enjoying uni fried rice, tacos de lengua, and In-N-Out on a recent trip to Los Angeles.
Tuesday, September 6
I'm in L.A. for work, staying at my beloved Chateau Marmont, and I wake up really early, around 5 a.m., as I'm still on New York time and I want to have time to linger over coffee and the newspapers on my terrace before going to train Brazilian jiu-jitsu at Cobrinha on Wilshire Boulevard. My breakfast order is always the same: a big pot of coffee and a double order of bacon. I sit there, looking out over the sprawl as it gets light.
I've rented a black Dodge Challenger — American muscle car at its finest — for the time I'm out here, which I really enjoy driving. On my return from an interview in Culver City, I pulled off Sunset into the parking lot of Pinches Tacos, where I had a very nice order of tacos de lengua accompanied by some sinister orange soda. Then it was two margaritas by the pool and a nap. I may or may not have had a Tate's chocolate-chip cookie from the minibar when I woke up.
For dinner, I got a double-double, Animal-style, and a chocolate shake at the drive-through at the In-N-Out Burger on Sunset, and took it back to my hotel. I ate the fuck out of that thing.
Wednesday, September 7
Took the 7 a.m. class at 5 Star, the local Renzo Gracie jiu-jitsu affiliate. Got arm-barred by a guy half my size. Humbled, I took the Brazilian cure-all and had an açai bowl for lunch at the Chateau. Tomorrow, fortified by the magical jungle fruit's miraculous powers, they say, I should be able to ankle lock the guy at will. Or not. Fuck it. Soon as the clock hits noon, I had a caipirinha by the pool. Is that a bad thing? It's Brazilian, too! And contains plenty of vitamin C!
For dinner, I went out to the always excellent Park's BBQ on South Vermont for Korean food with my assistant and co-author, Laurie Woolever. Along with a delicious onslaught of short ribs, galbi, sliced tongue, and other meats, they serve some of the best banchan I've ever had. Ludo Lefebvre turned me on to this place. I bring everybody there — and they are always dazzled.
Waddled into the hotel and had a Negroni in the garden before collapsing into a meat coma that lasted nine hours.
Thursday, September 8
Photo shoot for a magazine in my room. I recruited Roy Choi and Josh Homme to join me and make it look like I have friends. For the purposes of book promotion, Laurie and I prepared street-fair-style sausage-and-pepper hero sandwiches — something I find impossible to resist in New York — in spite of the inevitable explosive outcome.
I also bought a very expensive bottle of tequila, which I intend to expense my publisher for. Josh likes tequila. At Rancho de la Luna, where he records in the desert, the house cocktail is a "Corvette Summer," consisting of tequila, grapefruit juice, lime juice, and tonic. We had more than a few of those. Shoot went well and fisticuffs were avoided, so it was a win-win!
Dinner at NIGHT + MARKET down the street from the hotel. The pig tails alone are worth the flight to L.A. Also had some uni fried rice, curry pork belly, some Chiang Rai–style laarb, some pork collar, crispy rice salad … my brain is still pleasantly deranged with endorphins.
Up early tomorrow to train at Cobrinha, and Homme is coming for his first-ever introductory class. He has no idea what he's in for. The warm-ups alone are murderous, and he had a lot of tequila today. We are going to need some serious protein tomorrow, for sure. If we are still in possession of our arms. Which is doubtful.
Friday, September 9
On the way back from a hard training, I felt a sudden urge for nourishment. So I stopped at a legendary Los Angeles deli, looking for carbs and comfort, and instead found myself on what my friends Fred and Dave have referred to as the "Scavenger Hunt of Sadness." I ordered lox and eggs with an onion bagel and some coffee. The service could not have been nicer. The décor was perfect. Then the owner — a member, I gather, of the dynastic family that has run the place for generations — sat down at my table and, in rapid succession, filled me in, unsolicited, on the plans for their multi-unit expansion to Vegas, the restaurant's impressive weekly gross, number of seats, and number of employees, while addressing me repeatedly as "buddy-buddy." Then he comped my meal.
I appreciated his generosity — and his many expressions of admiration for my work. I really did. But, dude … brown your onions! They're watery and flavorless. The lox, too, was boil-in-a bag pink and bland. And the bagels? Feh! Like you'd expect to find on an airplane. Doughy and suboptimal in every way a bagel can be. Represent our proud and glorious tribe, our traditions of deliciousness, my brother! This ain't the way. Really. Show a little pride.
For dinner, an enormous, meat-centric dinner at Chi Spacca with Josh and the whole Queens of the Stone Age crew. Fantastic salumi; grilled octopus; warm figs; roasted and stuffed zucchini blossoms; amberjack collars; a dino-sized, impeccably rested Fiorentina; and an impossibly rich, delicious beef-and-marrow pie baked in pastry that flooded my head with awesomeness.
I will think back often on that huge slab of bone-in beef. Already a beautifully sourced and aged thing of beauty, it makes all the difference in the world when you rest it for an appropriate period before slicing it. Perfection.
This year, we're doing another Parts Unknown out here, so I have a number of good excuses to spend time in a city I've come to love, and at my favorite hotel in the world. I think the food is becoming exponentially better in L.A. every day. The Jonathan Gold–type restaurants, the strip-mall restaurants, and out-of-the-way pockets were always there. The number of high-end restaurants that were ambitious and creative, at least in many New Yorkers' opinions, were largely missing maybe 15 to 20 years ago. There are a lot of great restaurants here, and some really spectacular ones — the sort of fine dining that I actually enjoy, rather than 22 punishing courses of self-absorbed, self-important food. They do it right out here.
Saturday, September 10
Big pot of coffee and nothing else. Looked out at L.A. and read the dismaying news and then went to the train. Yardbirds and Dylan on the radio, which was good. I'd like to go back in time to the Newport Jazz Festival, when those folky assholes booed Dylan for going electric, and punch every one of them in the face. Blood on the Tracks, motherfuckers.
Lunch was a cheeseburger by the pool and a couple of margaritas, then back to my room and into the arms of Morpheus.
I ate dinner at Osteria Mozza with my longtime producer, Tom, and friend Travis. That's two nights in a row in Batali/Silverton/Bastianich places, which are so damn good. A big, glorious mound of burrata from Puglia, Roman-style tripe, some shaved Brussels sprouts, and figs wrapped in prosciutto, followed by linguine with clams and pancetta. We talked about the Rome show that we shot earlier in the year — entirely anamorphic — and which we just started to edit. That episode was not only a game-changer for us, but a life-changer, in my case.