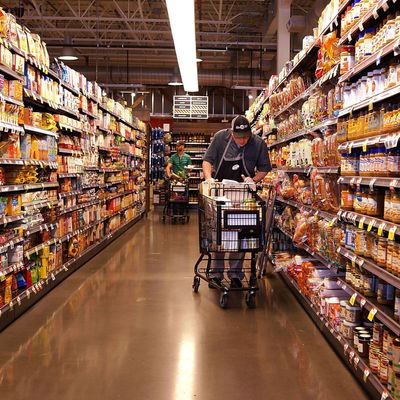 Photo: Spencer Platt/Getty Images
It wasn't so long ago that it looked like Whole Foods was going to take over the grocery world. Back in 2013, it was the darling of the organic-grocery world that it helped create, ready to seize the moment and bring heirloom quinoa to the masses. The chain's stock reached an all-time high of $65 a share that year, while co-founder John Mackey announced an aggressive plan to triple the grocer's footprint by expanding to 1,200 stores. A key part of the expansion plan involved moving into so-called food deserts in impoverished inner-city areas of cities like Detroit and Chicago — not the traditional market for the pricey chain.
Fast forward three years, though, and it's a different story. Contrary to Mackey's optimistic plans, America may already be saturated with enough — or nearly enough — Whole Foods stores to make do. The company successfully launched its 365 chain, a budget-minded alternative intended to compete with the likes of Trader Joe's, but things aren't going as well at the mother ship. Stock is down over 50 percent, falling over 5 percent today after competitor Sprouts Farmers Market cut its forecast, and analysts think the company needs to rethink an expansion strategy that, in hindsight, looks unfocused and overly ambitious.
After years of healthy growth, Whole Foods faces fresh problems:
• There's a dearth of quality retail space for a high-end chain like Whole Foods, and analysts are worried Whole Foods' ambitious expansion plans might have it targeting the wrong audience and going into neighborhoods that aren't suited for it.

• It's new location in Williamsburg is a hit, but analysts worry that opening locations in less-affluent areas, per the chain's expansion plans, will, Motley Fool portfolio manager Matt Argersinger tells Bloomberg, "trip them up."
• More inexpensive chains like Kroger, Wal-Mart, and Trader Joe's have gained ground in the organic-produce war, and it's no longer a wide-open field for Whole Foods. Reaching its expansion goals could mean fighting Kroger and Co. on their own turf — cheap prices — and that's a battle Whole Foods can't win.
• It's created another competitor in 365, which targets the same audience and has the same cachet. Regional presidents and company executives are super-psyched about the chainlet and its savings, too.
• The grocer maintains it will still expand to 1,200 stores, but Mackey says the company will cut back on square-footage growth next year and more heavily scrutinize new locations. Analysts believe its expansion goals could be met by including 365 locations into the figures.