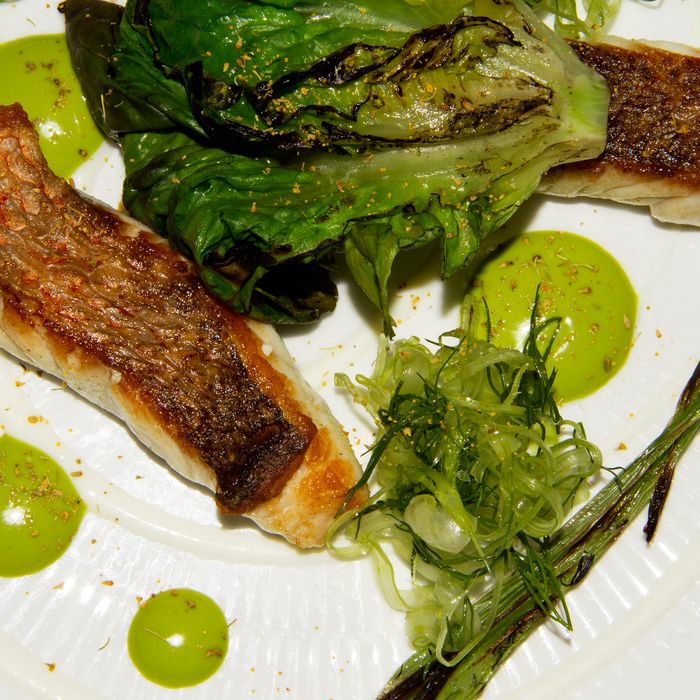 Red snapper with grilled lettuce, fennel, and ymer (a yogurt-like Danish dairy product).
Photo: Jemma Hinkly/New York Magazine
"I thought we were finished watching giant beetroots being carved tableside," one of my guests whispered as we watched, with properly solemn looks on our faces, the beet-carving ceremony unfold during a recent dinner at a newish midtown restaurant called Agern. Maybe you've heard about the beet-carving ceremony at Agern ("Acorn" in Danish), a noble though weirdly dated establishment that landed, some months back, in a windowless corner of Grand Central Terminal, like a time capsule filled with trendy dining themes from long ago. Or if not long ago, exactly, then maybe two years ago (which is two centuries in internet time), when the upper reaches of the New York dining firmament (along with pretty much the entire international dining world) was abuzz with the retro-purist wonders of the woolly, hyperseasonal, just-foraged Scandinavian dining experience.
In accordance with this rigorously local, haute-Scandi doctrine, the beet in question had been unearthed from the soil just days (or even hours) before, and at $22, will end up costing you as much as a relatively plump free-range chicken. It's cooked for several hours in a traditional Icelandic glaze made with a mixture of salt, ash, and egg whites, then portaged to the table on a bed of linen napkins. The servers make a precise jeweler's incision around the shell and tap it open, like a giant coconut, to reveal the steamed beet within. The beet is then displayed for everyone to admire, portioned out in delicate little slices, and consumed by the assembled locavore enthusiasts with the kind of sacred devotion that used to be reserved, long ago, for old-fashioned delicacies like caviar or a giant lobe of foie gras.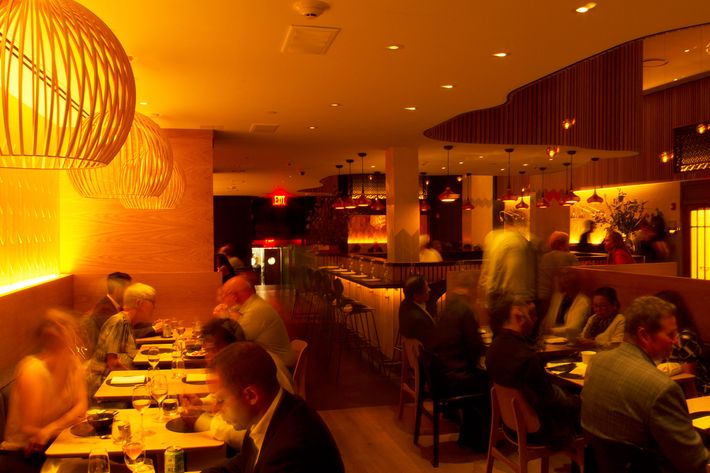 Agern is the brainchild of Claus Meyer, who helped trigger the great Scandinavian dining craze 13 years ago, when he and a young cook named René Redzepi opened a modest little establishment on the Copenhagen waterfront called Noma. After an impressive run, Noma lost its vaunted title of "No. 1 Restaurant in the World" a couple of years back, and Meyer and Redzepi have since parted ways. (Redzepi plans to reopen Noma next year as an "urban farm" in a different location.) Although still influential, the great Scandi craze has begun its inevitable descent from the height of fashion into the realm of parody, which, for better or worse, is what dinner at Agern feels like, complete with the aforementioned sacred-beet carving, a selection of meads to choose from (yes, one's Bushwick brewed!), butter served on chunks of found stone (replete with wood-carved faux peasant butter knives), and discreet references to esoteric weeds procured by "our in-house forager" in the wilds of New Jersey.
Not that my jaded band of tasters and I didn't enjoy our little jaunt down memory lane, especially in Grand Central, where the options for gourmand commuters have lagged in recent years. The room on the southwest corner, above the Oyster Bar, has been artfully reimagined in clean Nordic tones of polished gray and woodsy, caramel brown. The Danish designers have fit two bars into the room, one for eating, the other for drinking, and the combination of curved wood walls and low, honey-colored lighting gives the space a calm, almost oasislike feel. Commuters who don't have the time to sit down before catching the train can pick up an excellent Danish-style hot dog at the stand next to the restaurant's entrance, or forage for nutritious bowls of Danish porridge, loaves of fresh-baked rye, and a nice selection of classic open-faced smørrebrød sandwiches at the new Scandi-themed Great Northern Food Hall next door.
To coordinate this ambitious culinary circus, Meyer has recruited Gunnar Gíslason, a talented chef from Iceland, who does a good job translating the Nordic food revolution for this wider audience. Even the world-weary food snobs at my table had nothing bad to say about the soft, warm round loaf of barley-and-sourdough bread that accompanies dinner at Agern, or the little cloud of butter, produced, according to our knowledgeable server, from "grass-fed cows upstate." There were no complaints about the carefully rendered starters, like sea bream (cut in silvery fillets and dressed, Scandi style, with slivers of cucumber), or the scallops (with sunchokes, maitake mushrooms, and a scattering of sunflower seeds), or even, after the initial grumblings, the table-carved beetroot, which is garnished with shaved horseradish and little dabs of sour cream.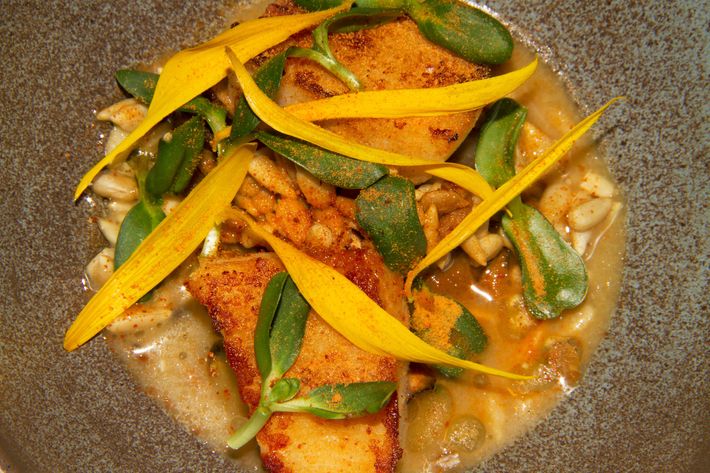 If there were no complaints, however, there weren't many gasps of foodielike glee either, particularly when the spare selection of à la carte entrées arrived. If you have $68 to spend on a piece of beef, I recommend you take it over to Sparks, or even (gasp) to Michael Jordan's on the terminal's upper mezzanine, instead of blowing it on the grass-fed "Hung Beef," which is muffled in a thick sludge of horseradish cream. The gently honeyed roast duck is worth ordering if it's on the menu (it wasn't the last time I dropped in), although Gíslason and his cooks seem most comfortable with stolid seafood preparations like Atlantic cod done various rustic ways, strips of skate garnished with apples and salsify, and roasted cuts of grouper plated, on the evening I ordered it, with scallions, chicory, and other bits of fashionably wilted greenery.
Will I be returning to Agern to admire this fashionably wilted greenery, or the rough-hewed wooden bowls (in which chunks of fried porridge are served), or the vegetable ash (which you'll find scattered over your finely chopped beef hearts)? Possibly not, although there are plenty of reasons, if you have time to kill before boarding the 9:06 to New Haven, say, or need a stiff shot of hard cider before that fraught midtown meeting, to stop by this industrious, slightly off-key operation. The quiet, dimly lit bar is a relief from the usual midtown happy-hour madness, and the bakery, out in the Vanderbilt food hall, sells a dense, brick-shaped whole-grain loaf of bread that in my current state of fiber worship I'm still dreaming about. The restaurant recently began serving a stout Scandinavian breakfast (yes, there are whole-grain doughnuts on the menu), and if it's culinary fireworks you're after, forgo the baked beet and spend your cash on the desserts conjured up by a young pastry chef named Rebecca Eichenbaum. These include pine-scented ice cream and a dainty wheel of New York–quality cheesecake dressed with a spoonful of red-pepper sorbet, and a weirdly successful chocolate mousse flavored — in the classic old haute-vegetable style — with soft little disks of midnight eggplant.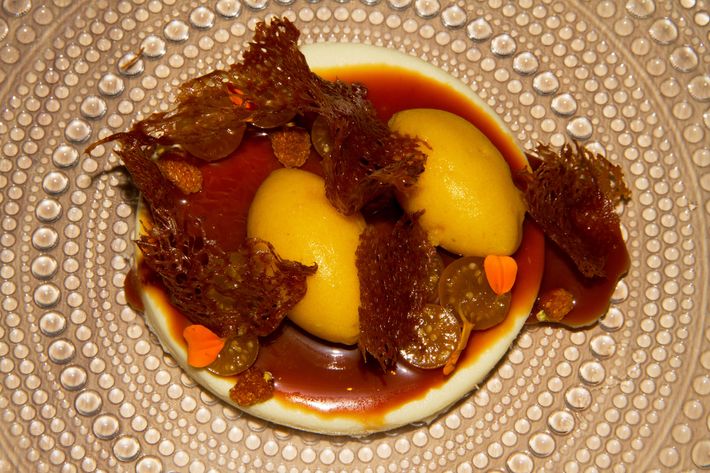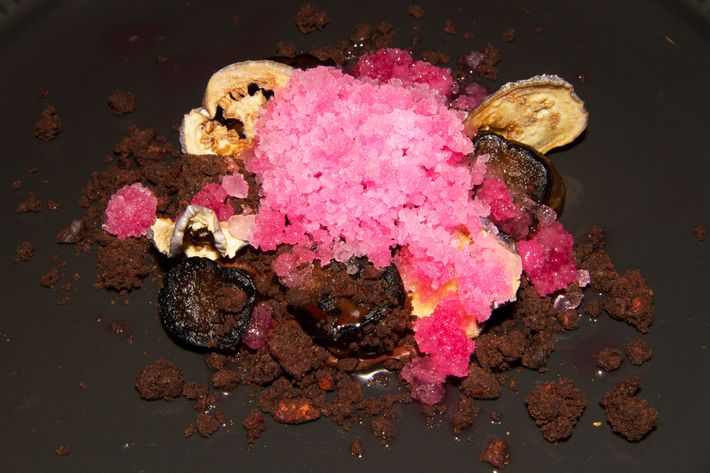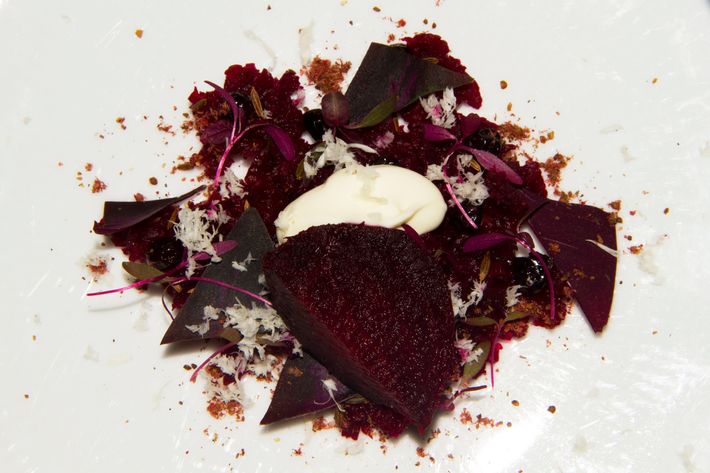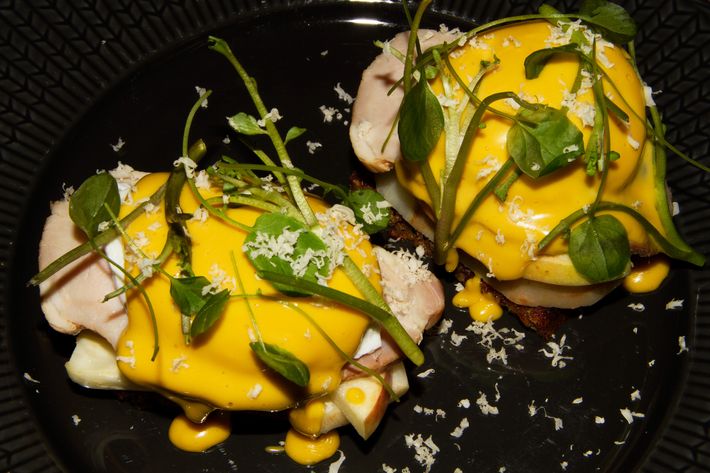 Agern
89 E. 42nd St., at Vanderbilt Ave.; 646-568-4018; agernrestaurant.com
Open: Dinner nightly; breakfast and lunch Monday to Friday.
Prices: Tasting menus, $140 and $165; à la carte appetizers, $14 to $28, entrées, $28 to $68.
Ideal Meal: Scallops with maitake mushrooms, roast grouper or duck, cheesecake or chocolate mousse.
Note: In accordance with current dining trends, Agern is a tip-free establishment.
Scratchpad: One star for the best of the slightly dated Scandi-style cooking and another for the simpler, more satisfying food-hall fare outside.