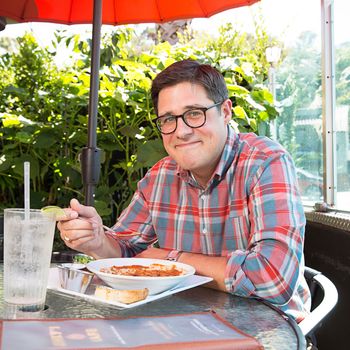 Sommer at Jinky's Studio Cafe, with his favorite bowl of Oaxacan chili.
Photo: Bradley Meinz
The Grub Street Diet debuted ten years ago, and to celebrate, we've asked some of our favorite subjects to once again chronicle everything they eat and drink. When we first checked in with Rich Sommer (Mad Men, Masters of Sex, the Wet Hot American Summer reboot) back in 2013, he ate and drank his way across New York's entire Lower East Side. (And got a shot named after him at Attaboy.) Back home in Los Angeles, life with his family is a bit tamer, but it still includes pizza twice a week, many doughnuts, and intimate moments with cheese sauce.
Friday, September 9
Last time I did this, I was living a few weeks of the bachelor life in New York, and my Grub Street Diet got some great comments, like:
• " … if I ate and drank like Rich Sommer, they would follow me around with a stomach pump."
• "Rough week for his liver."
It's fun having people weigh in on your terrible food choices. So fun, in fact, that I decided to do it again! For some reason!

I start my day at home (I start most days at home), and enjoy some scrambled eggs via an Alton Brown recipe I found online. I am not a cook (as you could probably infer), so I turn to the internet for great tips like "Whisk the eggs." I also have a slice of buttered toast and two espressos out of the espresso machine we bought after we went to Italy. Drinking espresso was our Italy souvenir.
After walking the kids to school, my lovely wife and I stop by Marie et Cie. I have a beet salad with goat cheese and walnuts and a bottle of water. I'll call this my "pre-lunch."
For the Lunchtime Main Event, I head to Jinky's Studio Cafe. I eat here a lot. Several times a week. I like the food and the people who work here, and it's close to my house. I have a bowl of the Oaxaca chili with some cheddar cheese and sour cream, and a little garlic bread on the side. I chase this down with some club soda.
At my office, I have a handful of Skittles. I received a candy dispenser as a white-elephant gift a couple years ago. This has not been good for me.
After school, the kids are headed out for the evening. I drop them off and go to Idle Hour. It opened fairly recently in this building that's shaped like a giant barrel. I've been a few times. They have these big pretzels with three dipping sauces. I avoid the chocolate, flirt with the mustard, and make love to the cheese. For the main course, I have a brisket sandwich with fries and a pickle spear. I drink a Ballast Point Sculpin IPA.
I pick the kids up and head home. Once they're asleep, I make myself a "Call of Cthulhu" cocktail. I don't usually end my day with a huge, tiki-style cocktail at home, but I'm supposed to talk about the cocktail on a podcast tomorrow. It's intense. There's a lot happening, both in the drink and in my brain.
Saturday, September 10
I grab us some Yum Yum Donuts for breakfast. This happens many Saturday mornings, because … tradition? I have a problem? You pick. I eat a glazed doughnut with coconut shavings and half a maple long john. Two espressos. And then maybe half a pink doughnut with sprinkles.
We go to the Counter for lunch. It may be a chain, but I saw Oscar-winner J.K. Simmons here once, so. I have a grilled-chicken salad with buffalo sauce and blue cheese, and fries. Club soda.
Back at home, I have the final half-doughnut, chocolate with sprinkles. They are gone now. You don't have to worry about the doughnuts anymore.
I head to the office to do an episode of my board-game podcast, the one where I talk about the cocktail I had last night and a board game you could pair with it. It's as compelling as it probably sounds. I eat Skittles by the fistful and drink a lot of club soda. That candy machine! It may actually be the death of me! Like, for real!
When I get home, I realize that Skittles are not a meal, and I order a pizza with pepperoni and banana peppers. I think to myself, Can't wait to write this down. I wonder what Bourdain is eating tonight. Probably not this.
Sunday, September 11
We bake some chocolate croissants from Trader Joe's, and I have two espressos.
My daughter loves to make guacamole, so we make some guac while I watch my beloved Cleveland Browns fall hard to the Eagles. We make some nachos to dip, and we marvel at her guac. She's not even 9 yet, guys. She makes some great guac. We also have some giant grapes we got at the store, and I have two Golden Road IPAs.
We take the kids to a friend's house to hang out. Their neighbor is testing some recipes out, so we sample some grilled vegetables. They're good. We order pizza (two days in a row!) from Crust. Oh man. I like this pizza very much. I have a coconut LaCroix (it's weird) and a mini Magnum bar for dessert.
When we get home, we open a bottle of wine. It's not great. I have half a glass.
Monday, September 12
Two espressos. Take the kids to school.
Back to Studio Cafe. I have a club soda, two eggs over medium, bacon, toast, and fruit.
I go to the office to get some things done. I eat some almonds and have some water.
Dinner is at home tonight. My wife makes some lemon spaghetti (a Giada De Laurentiis recipe) with chicken. Water to drink.
Tonight I'm doing the Doug Loves Movies podcast. An audience member gives us a movie-size box of Bottle Caps. I eat it.
I head back to the office to play crokinole with Michael Gladis after the show. If you had to guess, and your life depended on it, what would you guess I ate there? Skittles. You get to live. Also, almonds and water. This whole combo, after the Bottle Caps, makes my tummy hurt a little. Weird! Must be science.
Tuesday, September 13
This is almost over. Promise.
I get up a little late and skip the espressos. After getting the kids to school, my wife and I go to Harvest Moon. I get the salad trio, one of those deals where you choose three salads out of the case. My picks are Greek, heirloom tomatoes, and mango-curry chicken salad. It's good. I like this place.
For lunch, I have a meeting at Riot Games. Their campus is amazing, and their cafeteria is kind of the best. I have an espresso (making up for lost time) and a mélange of food items — some Mediterranean lamb thing, asparagus salad, squash salad, a banana, a white-chocolate-macadamia-nut cookie, and club soda. I like club soda, okay?
Our little nightmare journey ends back at Studio Cafe for dinner. I have the tandoori salad (a relatively recent addition to the menu), which is much spicier than usual. I drink club soda. I decide to never do this "writing down everything I eat" thing again. Bye!