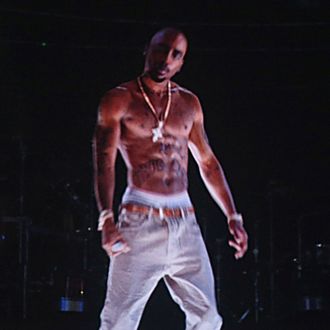 From hologram to restaurateur.
Photo: Christopher Polk/Getty Images for Coachella
Some little-known Tupac trivia is that, before he died in 1996, he had vague notions of opening a restaurant specializing in musicians' own recipes. He wanted to call it the Powamekka Cafe, and he even sketched out an ankh-symbol logo and drew a floor plan with bathrooms marked "Playaz" and "Divaz." Sadly, things never progressed beyond those plans, but a burger spot in California is bringing them to life as a one-day pop-up on September 13, the 20th anniversary of his death.

The restaurant, Take 3 Burgers, is partnering with Sam Hansen, a marketing director for the Fresno Grizzlies. Powamekka's menu reportedly incorporates dishes conceived by Tupac and fellow musicians, plus some original items by Take 3 and Hansen. They include a "California Love" chicken sandwich, Hennessy apple-butter wings, the "Mac-and-Cheeseburger," and something called "Thug Passion Cake Pops" that are gold and described as Champagne cakes with Alizé booze frosting.
Take 3 already did a Notorious B.I.G. tribute brunch earlier year (T-bones, cheese eggs, and Welch's grape juice), and it's going all-in with this pop-up. Festivities are supposed to include a Tupac art show and musicians performing their favorite Tupac tracks.