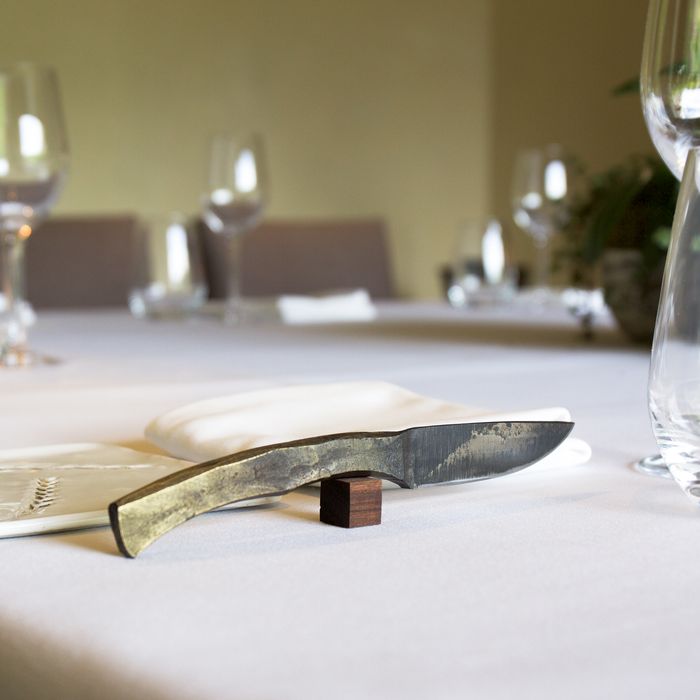 Blue Hill's custom Damascus knife.
Photo: Courtesy of Blue Hill
There are many, many things to adore about Dan Barber's justifiably celebrated Blue Hill at Stone Barns. Including the cutlery, which you would probably be tempted to slip into your bag if you thought you could get away with it. Now, however, you don't have to resort to a life of crime to get your hands on the restaurant's distinctive, beautiful knives.
The custom Damascus knife is forged from antique farm equipment — a salvaged 1920s spring-tooth harrow, to be specific — by blacksmith Michael McCarthy in upstate New York. The blade is sharpened with an antique sandstone grinder, and its handle is gilded with hand-brushed brass. The knife is incredibly sharp, pleasantly weighty, and extremely easy to grip.
The knife has been generating so much excitement in the restaurant's dining room, says a Blue Hill rep, that they finally decided to make it available for purchase. They're also working with McCarthy to develop a different knife for Blue Hill New York, though the design is still in the works. For now, though, you can grab these direct from Blue Hill for $125 each, a relatively steep price, but the material has already been around for nearly a century, so it's a safe bet the knives will last a very long time.