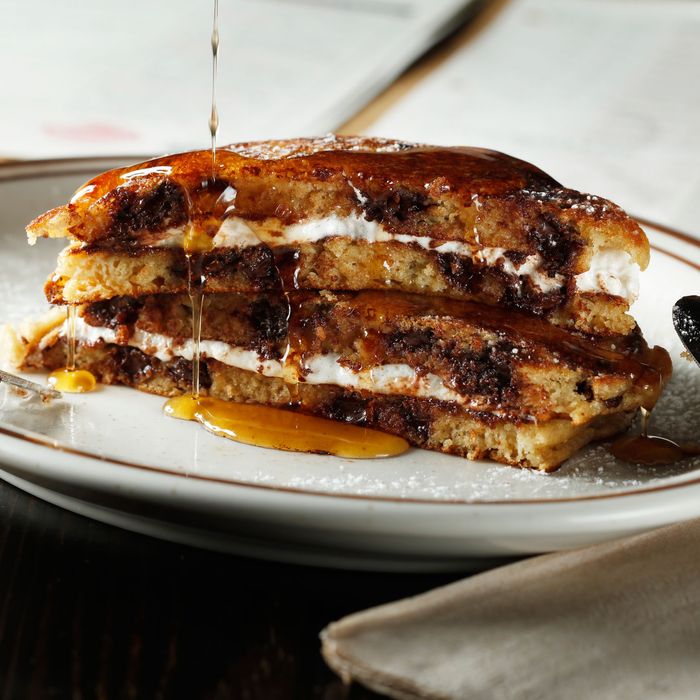 Boilermaker's s'more pancakes go a little too well with a bacon-infused old-fashioned.
Photo: Melissa Hom
New Yorkers are blessed to live in a city where late-night cravings need not go unsated. Burgers, oysters, ramen, halal-cart feasts, and diner specialties are all readily available, whether it's 4 p.m. or 4 a.m. But there's a smaller, more elusive group of foods only available in the middle of the night, specialty items that exist on late-night menus and nowhere else. Below, seven of the most interesting limited-edition options for the city that never sleeps.
S'more Pancakes
Where: Boilermaker
When: 12 a.m. to close
Price: $10
This East Village cocktail destination breaks out a midnight-pancake menu that runs both sweet (red velvet, apple pie, strawberry) and savory (purple potato). The most impressive of the group, though, is the s'more option: buttermilk flapjacks studded with graham crackers and chocolate chips, a layer of melted marshmallow sandwiched in between. On the side: Vermont maple syrup or homemade butterscotch.
M.C. French Fries Animal Style
Where: Midnights
When: Thursday to Saturday, 12 a.m. to close
Price: $12
The late-night fries at this Williamsburg spot are, of course, inspired by the famed In-N-Out version, given an appropriate amount of chefing up: Potatoes are cooked in the classic fast-food shoestring style, then the dish is assembled in layers: fries, blue-cheese béchamel, more fries, more béchamel, more fries, more béchamel. Scallions, bacon, and pickled red chiles finish things off.
Short-Rib Beef Burger
Where: Macao
When: Sunday, 11 p.m. to 12:30 a.m.; Monday to Wednesday, 11 p.m. to 1:30 a.m.; Thursday to Saturday, 12 a.m. to 3:30 a.m.
Price: $16
At the Tribeca staple, chef Erica Ohrling's late-night burger is made with a hormone- and antibiotic-free Black Angus beef blend (50 percent short rib, 25 percent brisket, 25 percent chuck) from Pat LaFrieda. It's served on a brioche bun with aged cheddar cheese, charred scallion, aioli, and homemade pickles.
Carne Asada
Where: Primal Cut
Price: $38
When: 11 p.m. to 3 a.m.
When executive chef Thomas Perone's new spot opens on East 60th Street this fall, it will offer a dry-aged New York Strip that's gotten a 48-hour bath in a secret-recipe marinade and is topped with chimichurri butter. (And, if you haven't gotten enough poke lately, Primal Cut will also offer a late-night salmon-poke-topped with pineapple, avocado, scallions, and sesame.)
Hot Dogs
Where: Red Rooster Harlem and Ginny's Supper Club
When: Fridays and Saturdays, 12 to 4 a.m.
Price: $5
Red Rooster Harlem and Ginny's Supper Club (located underneath Red Rooster) both serve off-menu, late-night-only 100 percent beef hot dogs with caramelized onions, "moonshine-infused" ketchup, and black mustard made with fermented seeds. It's a step up from the dogs you'll get on the corner.
Balkan Burger
Where: Employees Only
When: 11:30 p.m. to close
Price: $18
This pork-based take on pljeskavica, the Balkan street food traditionally made from beef or lamb, is seared on the griddle and served in a warm, halved pita stuffed with kajmak (an Eastern European dairy spread flavored with herbs and garlic), ajvar (roasted-red-pepper relish), chopped romaine, tomatoes, and onions. Paprika fries and more kajmak for dipping finish the plate. (Other late-night-only options at this popular West Village bar include Reuben croquettes with Katz's pastrami, chicken schnitzel, and a rotating "staff meal" that changes regularly.)
Late Night Sundae
Where: The Standard Grill
When: Wednesday 12 to 3 a.m.; Thursday to Saturday, 1 to 4 a.m.
Price: $9
This late-night sugar rush is made with high-class ingredients (Valrhona chocolate, Italian hazelnuts, organic milk and cream) and layered in a parfait glass with hazelnut and milk chocolate gelato, hot fudge, whipped caramel cream, candied hazelnuts, and sea salt.