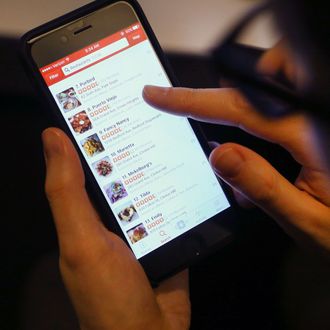 Ain't nobody got time for that.
Photo: Chris Goodney/Bloomberg via Getty Images
Yelpers will soon have one less thing to gripe about: The review site has announced a partnership with a start-up called Nowait that will enable app users to join restaurant wait lists remotely. The feature, which should be integrated into the app "in the coming months," will hold a place in line at thousands of restaurants, according to TechCrunch. The setup will likely be similar to Nowait's current system: Users add their name and party size to the wait list from their phone, then get notified by text when their table is ready. They can even reply to say they're running late (though the spot's by no means obligated to hold the table).
Yelp executives explain that they discovered Nowait by word of mouth this spring and, from the sounds of things, loved it. Right now, the platform offers real-time wait estimates for more than 4,000 casual-dining spots that don't generally let people book reservations (places like Chili's, On the Border, and Buffalo Wild Wings). As part of the partnership, Yelp also agreed to invest $8 million — money Nowait says will help "expand our restaurant and customer base."