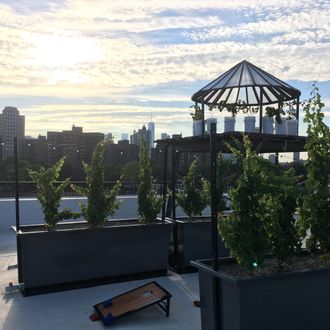 The view these vines wake up to every morning.
Photo: Courtesy of Rooftop Reds
Oenophiles with bad hay fever, your day has finally come: The world's first-ever commercial rooftop vineyard has fully ensconced itself on 15,000 square feet atop the Brooklyn Navy Yard, where it's already growing rows of grapes. The area is also home to an expansive urban farm, a prized whiskey distillery, and the new headquarters for Mast Brothers and Brooklyn Brewery, which all seem like fine company for Rooftop Reds. Co-founder Devin Shomaker says about 170 Bordeaux grapevines are currently sprouting up from several dozen planters that also, for what it's worth, enjoy one of the city's most spectacular views.
The idea of a Navy Yard terroir probably conjures tasting descriptors like "notes of tar" or "a bit asbestos-y," but as this video by AFP explains, Rooftop Reds' team of urban viticulturists argue the first-of-its-kind planter system they invented allows them to meticulously control growing variables in ways winegrowers stuck down in the dirt simply can't:

Shomaker admits that, as ambitious as the concept is, what hatched the idea was basically just "that I wanted to live here — I wanted to live in Brooklyn." For anyone who wants all of the nuts and bolts, Shomaker offered a much more exhaustive 15-minute tour to the Food Network, in a separate video posted today:
The first harvest should be in 2017 and is estimated to yield about 30 cases. Ultimately, the team thinks Rooftop Reds can kick-start a whole industry of sustainable urban winemaking, and in the process sort of establish what local wine gets to taste like for New Yorkers, a group famously not full of laggards when it comes to wine drinking. "This is the largest-consumption market in the world," Shomaker says. "New Yorkers deserve their own vintage."