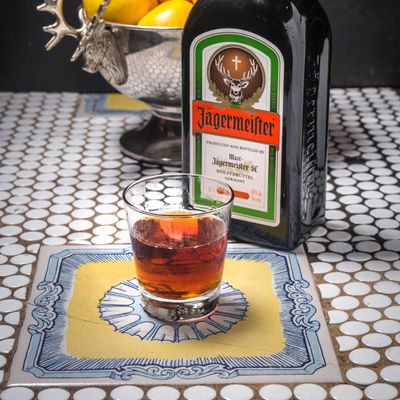 Jägermeister at Amor y Amargo, a highly respected cocktail destination in New York.
Photo: Paul Wagtouicz
Everyone has a Jägermeister story, often a bit fuzzy, usually youthful, almost always regrettable. Downed as a shot, or dropped into a glass of Red Bull, Jägermeister is what you drank before you knew how to drink. Not so long ago, when it was still trendy for upscale bars to print "house rules," nearly every list boasted the same lofty commandment: "No Jägermeister."
Well, no more. Jägermeister has become the darling of bartenders and knowledgable drinkers alike. It is the sly wink of the cocktail sophisticate, the faux-guilty pleasure of the nostalgia chaser, a go-to curveball order, or — really — just something that's better than Fernet. More surprisingly, it's also showing up in lots of cocktails.
Lana Gailani, a bartender at Seamstress on the Upper East Side and Holiday Cocktail Lounge in the East Village, first realized that Jäger should be taken seriously when she tried it mixed with some grapefruit juice. "I realized it was another tool in the box, like anything else." At Seamstress, bartenders serve a Rio Grande Sour — Jäger with cachaça, egg white, and simple syrup — for a spicy, vaguely Latin take on the sour.
Top bartenders all over the country are rediscovering Jägermeister. This summer it shows up on cocktail lists at spots like San Francisco's Dirty Habit — where they serve up a mix of Jäger, cognac, coconut, sesame, and togarashi — and the Kansas City speakeasy Manifesto, as well as Liberty in Seattle, Acacia in Pittsburgh, and the Bit House Saloon in Portland, Oregon, just to name a few. It's even finding its way into cocktails in Germany itself, where Thelonious Bar in Berlin makes a popular cocktail called the No Quarter: a mix of Jägermeister, rum, sweet vermouth, Benedictine, and bitters.
At Amor y Amargo, the cozy bar in New York's East Village that specializes in bitters, beverage director Sother Teague offers two Jäger cocktails. The "Precision Timepiece" actually uses Jäger to temper the cocktail's bitterness, pairing it with the Italian amaro Montenegro, along with Aperol and bitters. In the "Roman Holiday," Amor y Amargo head bartender Lindsay Matteson brings out Jäger's brighter but also more astringent qualities by pairing it with two types of vermouth, grappa, and a shake of citrus bitters. "It's on my bar, top shelf center," says Teague. "I love it up there. I have a light shining right on it."
What happened? How did Jäger go from reviled frat-house favorite to beloved bartender must-have? As spirits go, Jägermeister is actually pretty young. The Jäger that you're familiar with was first sold in 1935 in Germany, when Curt Mast took over his father's wholesale wine business. (Compare that to something like Chartreuse, a French bitter liqueur that's been around since at least the 16th Century.) Mast was an avid hunter and envisioned something to drink in a ritualized toast at the beginning and end of the hunt. He concocted a bitter, sweet, herbaceous liqueur made from 56 separate ingredients including cardamom, orange peel, star anise, ginger, and cinnamon. Jägermeister, which translates to "master hunter," was born.
For a long time, the company was worried — and for good reason — that Americans just wouldn't like what it was selling. Compared to Europe, American drinkers have historically had no patience for bitter drinks. So, as soon as it started showing up on American shelves, the German makers were doing what they could to temper its bitter flavor. Until recently, all Jägermeister bottles sold in North America, and only in North America, came with a big, block-letter label on the front: SERVE COLD – KEEP ON ICE. More recently, the company developed and promoted a special table-top machine that chills bottles to sub-freezing temperatures, so all those shot-takers wouldn't even have to taste what they were gulping down.
Now, however, bitter is back. The Negroni craze of a few years ago opened a kind of bitter floodgate, and drinkers everywhere enjoy Aperol and Campari spritzes, Fernet, and Italian amari of every description. It's the era of the aperitif and digestif, and Jäger's marketing team seems to have gotten the memo. The "serve cold label" on the bottle is now much smaller, and since 2013 it's migrated from the front of the bottle to the back. Sales for the brand are up in the U.S. for the first time in years, and it's expanding globally at a fast clip. (Meanwhile, the frat set increasingly reaches for Fireball over Jäger.)
And it's showing up in lots of cocktails because Jäger — with its herbaceous, bitter-syrupy flavor — is actually one of the more versatile liqueurs out there. Teague says he can swap it into plenty of drinks. "I can substitute the sugar in my old-fashioned with Jägermeister, or substitute the bitters in my old-fashioned with Jägermeister, or both. Fifty-fifty rye whiskey and Jägermeister over ice and I'm done. Boom. That's delicious."
It's not all stark, sophisticated drinks, either. At the Third Man, in the East Village, bartender Christian Daly pushes a cocktail called "Bill Murray's Son," a sweet, thick, almost-dessert-like cocktail of vanilla syrup, lemon juice, heavy cream, a shot of Jäger, and an egg white, dusted with ground dark chocolate.
In other words, Jäger is still fun. It's a sign of the times: The culture has shifted, and the kind of disdain that gave rise to "house rules" is out in favor of a more inclusive drinking world. It's the same attitude that's seen vodka make a big comeback at bars where it was once scorned, and has even seen some bartenders invent upgraded versions of drinks like the espresso martini. What is cool, as far as bars and bartenders go, is to like what you like and to not worry about it so much. Every bartender Grub spoke to said the same thing: Nothing is off limits anymore. Except maybe Fireball.