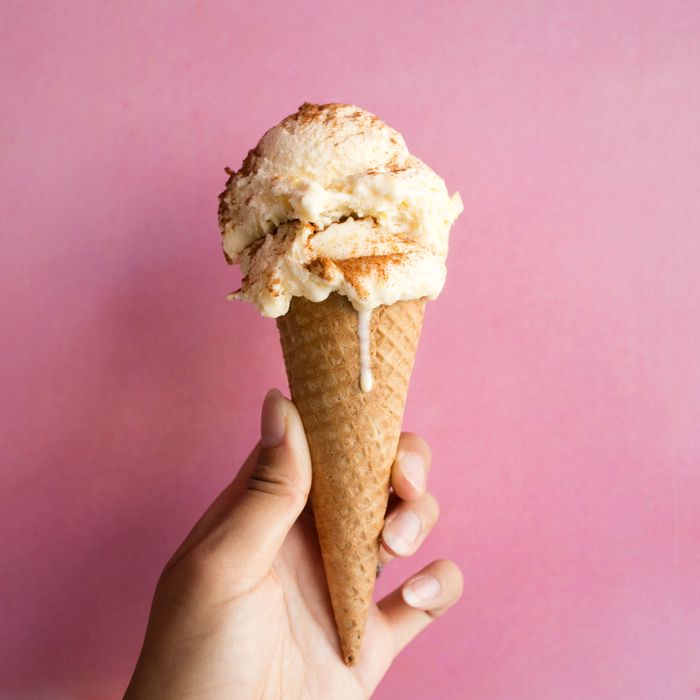 Cones, on Bleecker, tops it with cinnamon.
Photo: Melissa Hom
Other flavors tend to hog the spotlight: strawberry, salted caramel, hot dog. But as August winds down, there is one ice cream above all others that should command you attention. Corn. Seek it out immediately. Petition your local parlor to make a batch. Do what it takes to eat this glorious flavor before summer ends.
The reason to eat it right now is because corn is fresh and in-season, which is why the flavor tastes so perfect (and is easiest to find) in late August. At Superiority Burger, Brooks Headley is offering corn gelato sporadically through the end of the month. "I started nixing kernels and going full-cob infusion. No spices, no vanilla. Just cobs and salt and turbinado," the chef explains. "Not too much salt. It should never taste salty, just true to the summer corn. Delicious corn almost always has delicious cobs."
That pure corn taste is what makes the flavor so satisfying. The vegetable's inherent sweetness works as a complement to the dairy, almost like an all-natural version of Momofuku Milk Bar's cereal-milk soft-serve. It's also novel without being too weird — more experimental than something like hazelnut, but not as outlandish as, say, coconut-ash or vegan turmeric. Corn ice cream is familiar and a bit exotic at the same time.
It's currently available at several notable places around town. Otto uses it as the base of a sundae with polenta cake. And corn soft-serve, made with goat's milk, will soon be sold at Victory Garden. Outside of New York, Jeni's Splendid swirls corn ice cream with black-raspberry sauce, and Salt & Straw sautées fresh kernels in salted brown butter and adds caramel.
At Cones, an underrated South American parlor in the West Village, owner Oscar D'aloisio actually claims that he was the first to ever sell corn ice cream in New York. "My customers from Brazil were asking for the flavor nine years ago, and we didn't think it was going to be good," D'aloisio says. "They put so much pressure on us! Now it's one of the most popular flavors." D'aloisio actually uses canned corn instead of fresh (for consistency, and so he can offer it year-round), but also adds a sprinkle of cinnamon, which makes it even more delicious. Plus, if you can't get enough corn ice cream in the summer, D'aloisio's solution means you can enjoy it during the colder months, too.