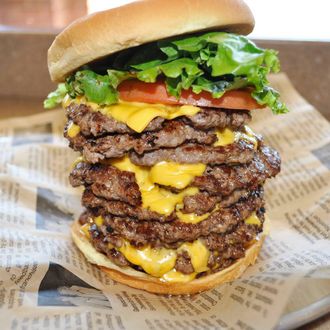 Who could posssibly survive eating this as fast as possible?
Photo: Wayback Burger/Facebook
With repeated, incessant warnings that everything is going to hell, it's obvious the world needs help. Earth's population continues to grow, unchecked, and our natural resources simply can't keep up with the toll it's taking on this planet. Even coffee might go extinct as a result of climate change. Something needs to change, and fast. Enter Wayback Burgers, whose new promotion might just save humanity from itself.
The Connecticut-based chain has announced a new one-day event called the Triple Triple Challenge, which dares customers to eat an obscenely oversized burger made with nine patties and nine slices of cheese faster than anyone else on September 18. The "winner" will receive $3,300, before taxes.
Consider the high risk of choking or suffering a heart attack while trying to down this beast burger in under a minute and you understand the genius of this scheme: It's like The Purge meets Good Burger, a single day where people can line up and — in the process — help the world become a little less populated, all in hopes of winning a take-home sum that will work out to roughly the price of a new Mac laptop. Good luck, everyone!