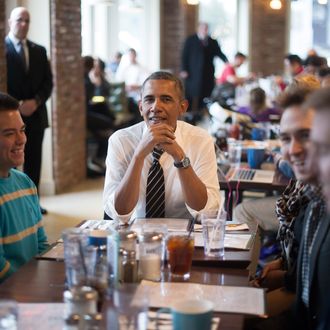 Bonus: Obama spottings.
Photo: Jim Watson/AFP/Getty Images
As Bon Appétit hypes up the announcement of its annual "Best New Restaurant" title, the magazine's bestowing a few other honors. Editors Andrew Knowlton and Julia Kramer have selected Washington, D.C., as 'Restaurant City of the Year,' name-checking spots like Bad Saint, the Dabney, Tail Up Goat, and Rose's Luxury — which won "Best New Restaurant" in 2014. "The table next to you isn't only talking politics; they're discussing last night's cacio e pepe, too," Knowlton writes. But of course, like with any list, this one has its critics.