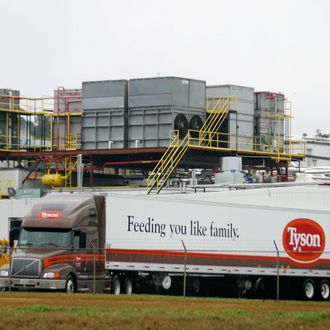 Inspectors also found dangerous carbon-dioxide levels and fire hazards.
Photo: Mario Villafuerte/Getty Images
Feds say they've fined America's largest meat and poultry producer, Tyson Foods, more than $263,000 for exposing factory workers to hazards that, in at least one dire instance, caused a finger amputation. Inspectors with the U.S. Labor Department found 15 "serious violations" at the company's chicken processing plant in Center, Texas — violations that turned up after the agency decided to investigate a report about an unlucky worker losing his pinkie trying to un-jam chicken parts that got caught in a conveyor belt.
"Tyson Foods must do much more to prevent disfiguring injuries like this one from happening," a release by the agency's Occupational Safety and Health Administration said. "As one of the nation's largest food suppliers, it should set an example for workplace safety rather than drawing multiple citations from OSHA for ongoing safety failures." Among the myriad violations inspectors cited were scary levels of carbon dioxide, insufficient safeguards on moving machine parts, letting untrained workers handle peracetic acid, and inadequate protective gear for the workers. There were also drainage problems that the agency said exposed employees to slip-and-fall hazards, and improper gas-cylinder storage that presented a fire hazard — a violation for which Tyson had already been cited in 2013.

In its own statement, Tyson tells the Dallas Morning News the company remains committed "to continual improvement in our workplace safety efforts," and takes this seriously enough to employ "almost 500 health and safety professionals … in such areas as safety training, safety audits, ergonomics and health care." It's just one more headache for Tyson, joining a growing list that, besides mistreating animals, also includes being one of the country's worst water polluters. It has 15 days to reply to OSHA's notice.