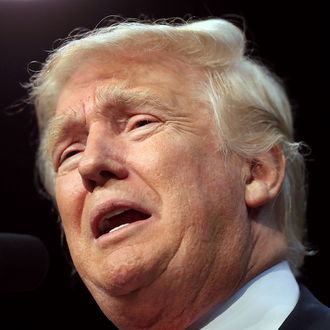 He tried, believe him.
Photo: Joe Raedle/Getty Images
Truly shocking development: The Trump International Hotel cannot find a single taker for the big now-empty spot where Geoffrey Zakarian was supposed to open a restaurant. As everybody recalls, Zakarian and fellow chef José Andrés (who was set to run the hotel's flagship eatery) both pulled out last summer — moves that each triggered $10 million lawsuits from Trump's people.
The hotel managed to replace Andrés with David Burke and a BLT Prime (but only after making major concessions, like granting Burke a management deal instead of a lease). Zakarian's spot, meanwhile, has remained empty — and empty it shall remain, according to Trump: When he was deposed by Zakarian's attorneys back in June, he admitted other chefs had entertained the offer, but "We couldn't get them to make a deal. We couldn't get them to sign a lease." He added there isn't really time now "to have a restaurant," so they've moved on to the second-best option: converting that space into a "very large" conference room.
The transcript of Trump's deposition was just released Friday, so that's why this is just now coming out. As far as its other gems, the would-be leader of the free world also admits that the $10 million lawsuits against Andrés and Zakarian were effectively little more than payback ("If they would have gotten out very quietly I think it would have been better for everybody … They made such a big deal out of it. And they didn't have to"), and then adds, "There aren't that many [great restaurants] in Washington, believe me." Bon Appétit editors would disagree.