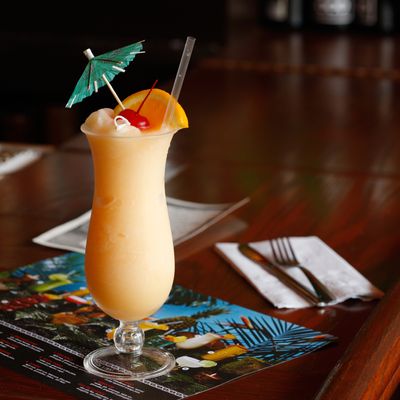 The Orange Julio at El Cortez.
Photo: Melissa Hom
It's that time of summer again, when weeks of oppressive heat and heavy humidity mean New Yorkers want nothing more than to just cool off a little. That's tough when subway platforms feel like the inside of a jet engine. The only real antidote, of course, is tropical drinks: piña coladas, Dark 'n' Stormies, frozen whatevers — anything created to take your mind off the sweltering heat. Here are a dozen to help see you through summer's hottest days:
Piña Colada
Where: Fort Defiance
Price: $14
Few, if any, cocktails better capture the summer spirit than piña coladas, and no New York bar makes a better one than Fort Defiance. Based on the "original" recipe, it's shaken, not blended, and made with El Dorado 5 Year, Coco Lopez, and heavy cream, plus a hint of lime to cut through the richness.
Orange Julio
Where: El Cortez
Price: $12
This refreshing and dangerously easy-drinking twist on an Orange Julius combines gin, elderflower liqueur, Aperol, and fresh orange juice.
Dark 'n' Slushie
Where: Glady's
Price: $6
The hip Jamaican restaurant makes a good Painkiller, but should you need to pretend you're on the islands, it's recommended you opt for this slushied-but-otherwise-classic Dark 'n' Stormy — sold at a bargain-bin price, no less.
Pineapple-Mango Mojito
Where: Tropical 128 Bar
Price: $12
You don't actually go to Tropical for the drinks. This hot mess of a Chinatown bar is about the experience, and the weird Rainforest Cafe-like decor. However, they do serve tropical drinks (hence the name), and, considering the setting, you really have no choice but to go all in with a fruity pineapple-mango mojito.
Singapore Sling
Where: Otto's Shrunken Head
Price: $14
At this early adopter of the tiki revival, you can get the deceptively boozy Singapore Sling. A mix of gin, cherry liqueur, Cointreau, Benedictine, and other spirits, it's ideal when the humidity and heat are through the roof.
Playa
Where: Nix
Price: $12
Fact: The only thing more refreshing than watermelon juice is spiked watermelon juice. At this vegetarian restaurant, they booze the juice up with tequila and champagne foam.
Coconuts
Where: ROKC
Price: $11
If you're far uptown, looking for a well-made drink, and don't want to travel downtown because of the heat, you finally have an answer, thanks to this bar from Angel's Share vets. The menu includes this gin-and-coconut concoction, invigorated with orange blossom and lime.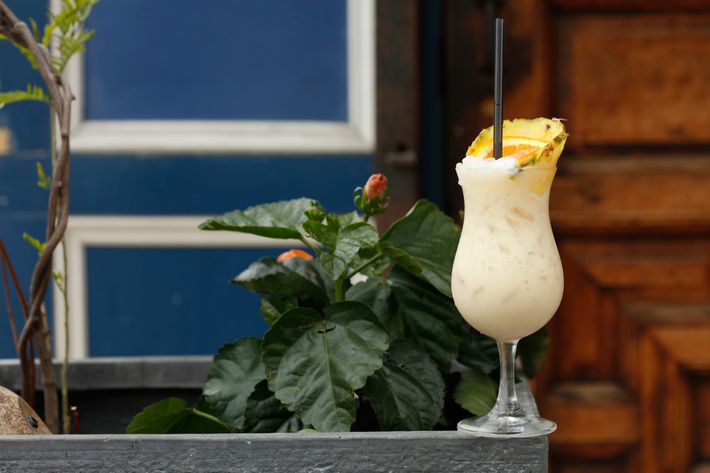 Tia Mia
Where: Leyenda
Price: $13
Why stop at one tropical spirit? At Leyenda, the bartenders mix smoky mezcal with Jamaican rum, orange Curacao, nutty orgeat, and lime.
Fracas
Where: Grand Banks
Price: $16
Pair one of the city's finest lobster rolls with this mezcal-and-tequila drink, made with pineapple, lime, Angostura bitters, and — Painkiller-style — a dash of nutmeg. Bonus: This restaurant is on a boat.
Neon Lights
Where: Grand Army
Price: $13
Bartender Damon Boelte's summer menu is presented "in celebration of hot nights of debauchery," but the drinks remain remarkably refined. Take, for example, this creamy, iced combination of mezcal, cachaça, Brazilian banana liqueur, and coconut. A little lime brightens the whole thing.
John the Beachcomber
Where: Super Power
Price: $12 or $22 for a super-size (serves two to three)
At this new Crown Heights tiki bar, the menu includes this cocktail — named for tiki originator Don the Beachcomber — made with Nicaraguan, Guyanese, and 151-proof Jamaican rum. It's rounded out with allspice dram, grenadine, lime juice, and pineapple.
Toes in the Sand
Where: Rosie's
Price: $14
When used properly, banana liqueur can be as delicious a cocktail ingredient as any from the tropical pantry. Here, it's mixed with South American cachaça and, going all in with the fruit, pineapple, orange, and lime.