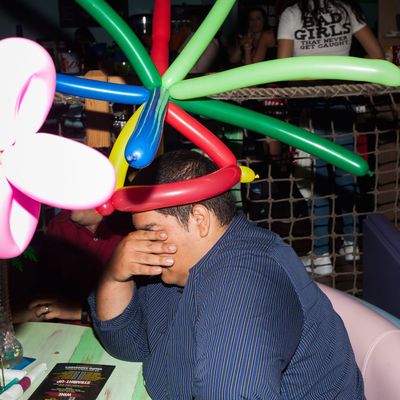 We're bummed, too.
Photo: Camilo Fuentealba
This comes as a genuine shock: The party-centric Señor Frogs chain has shut down its lone New York City outpost, which only opened in the fall. New York Times critic Pete Wells famously wrote a glowing review, going as far as to say, "I had more fun at Señor Frog's than at almost any other restaurant that has opened in the last few years." Wells, of course, wasn't even the target demographic; the restaurant seemed to appeal to margarita-loving tourists and youths, too.
Fellow Times reporter Florence Fabricant writes, "The gigantic Times Square branch of this margarita-fueled chain has shuttered, according to notes on the door. Company officials did not return calls on Tuesday." The restaurant's official Facebook page marks it as closed, and its website is defunct. Grub's own calls to the location went unanswered, and the main Señor Frog's site, meanwhile, no longer lists a New York City location at all.
So much for "spring break forever!" Those potential customers who are disappointed to hear this news and would still like to unleash their fiesta — as the Señor Frog's slogan goes — will have to go to Myrtle Beach or Vegas instead.