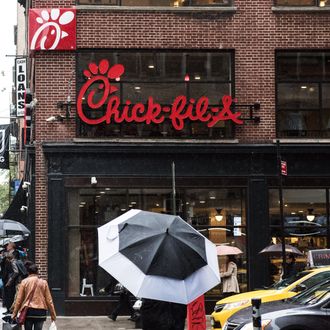 Probably coming soon to a corner near you.
Photo: Andrew Renneisen/Getty Images
Warning: Chick-fil-A's outer-borough invasion will begin much sooner than anyone predicted. Earlier reports had guessed the fall, but the chain's first spot not in Manhattan, where it's already dropped two locations eight blocks apart, will actually crash the Queens Center mall in Elmhurst on September 1. Supposedly the first of a dozen more outposts coming to NYC in the next year, it's a food-court location — a common-enough sight for anyone who grew up with malls and Chick-fil-As — that's carved out 1,000 square feet by combining the spaces previously occupied by a Nathan's Famous and a Taco Bell.
The store plans to go the standard route of offering the first 100 people in line a year's worth of free sandwiches. Traditionally, this giveaway causes iPhone-release-level queues, but, thanks to being out in Queens, the people "camping out" will at least get to do so from inside the mall's parking garage.
The chain's hopes of sprouting up like kudzu all over the city haven't been greeted warmly by all New Yorkers, especially the current mayor, who's said in no uncertain terms that people should "not patronize" that establishment. Also, ever since the announcement came out, Councilman Danny Dromm has been urging locals to protest the new location, which is in his district, so expect the early-morning crowd on September 1 to include more than just people after a year of free food.