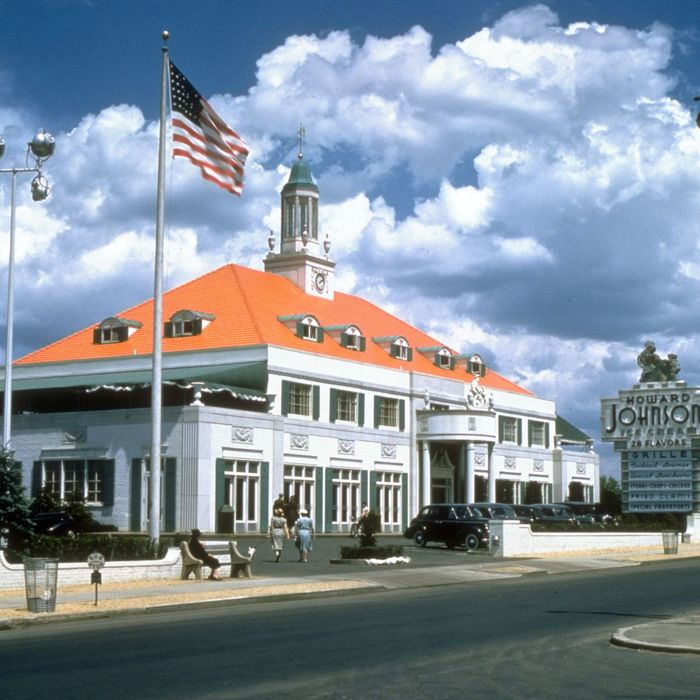 A Howard Johnson's in its heyday.
Photo: Charles Fenno Jacobs/The LIFE Images Collection/Getty Images
Soon, there will be only one Howard Johnson's left. In September, the Bangor, Maine, location of Howard Johnson's, the once-ubiquitous roadside chain and orange-roofed icon of American progress, will close after half a century of serving clam strips and root-beer floats. When it does, the only remaining HoJo's will be in Lake George, New York.
It wasn't always like this: Once upon a time, Howard Johnson's was one of the country's most successful chain restaurants, an operation that grew from a single soda fountain to hundreds of locations across America. Despite weathering the Great Depression and World War II, the chain was eventually done in by less dramatic concerns: mismanagement, multiple sales, and lack of innovation.
It's worth remembering, though, that the story of HoJo's is one of the great stories of American restaurant growth:
1925: After inheriting a drugstore and soda foundation from his father, HoJo's namesake Howard Deering Johnson quickly figures out that people really like ice cream. Customers flock to the soda fountain for Johnson's ice cream after he — in a genius move — doubles the recipe's butterfat content and expands his roster of flavors from 3 to 25.
1932: The second Howard Johnson's opens in Cape Cod under one of the country's first franchising agreements, setting the stage for the age of McDonald's.
1936–1945: Johnson enacts his plan to turn the country into one giant orange-roofed house of fried clam strips and root-beer floats. Four years after the first franchise opens, there are 41 HoJo's. That number more than doubles, to 107, by 1939, then nearly doubles again, to 200 locations by 1941. Most locations close after the United States enters World War II, because of rationing. Johnson recovers and marches onward.
1960–1970: Jacques Pépin is a culinary legend, one of the 20th century's most important and influential chefs, and a charming personality who co-hosted one of the greatest food television shows ever, Julia and Jacques Cooking at Home. But his greatest achievement, he wrote in Time in 1998, is working for HoJo's, a tenure that starts when Johnson steals Pépin and Pierre Franey away from Le Pavillion to oversee recipe development for flash-frozen dishes distributed via a central commissary. At the time, such a commissary is revolutionary.
Mid-1960s: It's hard to believe now, but according to Pépin, HoJo's, which became a publicly traded company in 1961, was running laps around the competition. By the mid-'60s, he says, the chain is bigger than Burger King, Kentucky Fried Chicken, and McDonald's combined.
1968: In a bit of pioneering product placement, the space station in Stanley Kubrick's sci-fi flick 2001: A Space Odyssey carries logos from corporations including Howard Johnson's. (At press time, Howard Johnson's does not advertise on the International Space Station.)
1972: HoJo's visionary Howard Deering Johnson dies, causing the company to, in Pépin's opinion, lose "its raison d'être," and subsequently, "the restaurants became obsolete; the food quality deteriorated."
1980: HoJo's is sold by Johnson's son for $630 million to Imperial Group, a British conglomerate. Several new restaurant concepts — none of which anyone remembers — are launched, including Deli Baker Ice Cream Maker and something called Bumbershoot's. Things do not go well.
Early 1980s: Future food-television personality Rachael "Evoo!" Ray works the dishwashing machine at the Lake George, New York, location of HoJo's. Possibly still bitter about it, Ray describes her experience to the New York Times decades later as "the most degrading job to have," because "everyone you go to school with comes in to get ice cream or hot dogs or whatever and they see you covered with sweat and old rotten food and you smell."
1985: HoJo's is sold, once again, to Marriott, which cares more about the real estate than it does about the actual restaurants or 25 flavors of ice cream. It plans to convert 350 company-owned HoJo's to its own Big Boy chain, and subsequently sells off the motels. The acquisition further damages the brand.
1986: Sensing imminent doom, a group of franchisees threaten a $1 million lawsuit against Marriott and are allowed to form their own company (Franchise Associates, Inc., or FAI) to gain franchising rights, use the Howard Johnson's name, and serve the original recipes.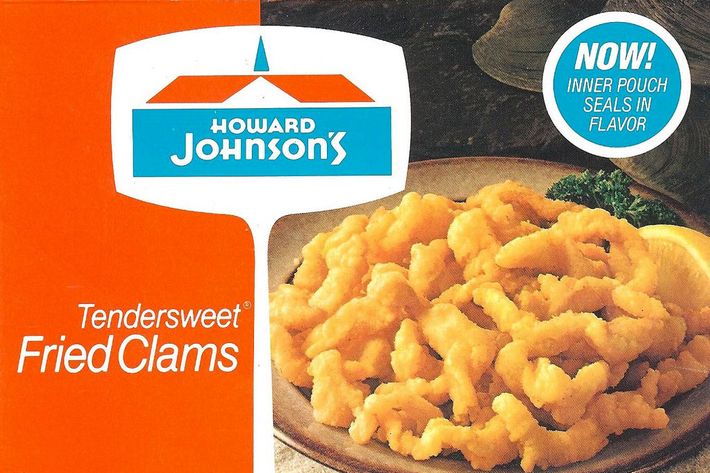 1987: An Orlando Sentinel article refers to HoJo's as a "sagging chain" and quotes FAI chairman George Carter saying, "It desperately needs to be modernized, internally and externally … Howard Johnson was allowed to become tired and stale."
1990: Realizing that HoJo's has not been relevant in a very long time, FAI attempts to garner interest among new franchisees with a prototype in Canton, Massachusetts, called Howard Johnson's Restaurant. It does not work, and the establishment closes a decade later.
2000–2001: Proving that people really, really loved HoJo's, a pair of enthusiasts launch websites dedicated to extensively cataloguing the chain's history, called Under the Orange Roof and HoJo Land.
2005–2007: The number of HoJo's having dwindled from a peak of over 1,000 to a meager 8, the closing of each restaurant is marked with an increasing sense that it's all over. In 2005, locations in Springfield, Vermont; Bay City, Michigan; Millington, Maryland; and Times Square in New York City close. Another in Ashbury Park, New Jersey, shutters in 2006, followed by another location in 2007. Marking the closing of the Times Square location, the New York Times writes, "If you went there at all, it was either to affect ironic hipness or to imagine your parents there, in their happy times before you."
Mid-to-late-2000s: Baby boomers everywhere are devastated to learn that HoJo's frozen-food line is no longer in production.
2012: In an episode of the mid-century nostalgia fest that was Mad Men's fifth season, Don Draper visits a Howard Johnson's in northern New York. The all-American Draper is giddy like a kid in a candy shop, but his younger wife, Megan, a French-Canadian, does not like the orange sherbet.
Later that month, 2012: Speaking with Grub Street about his time at HoJo's, Pépin says, "Howard Johnson was a totally different world. I learned about American eating habits. It was a very positive thing in my life."
2015: The HoJo's in Lake Placid, New York, closes on March 31. Then, like a phoenix rising from the fast-food ashes, the old Lake George location, which had shuttered in 2012, returns. The comeback is courtesy of Jon LaRock, who worked at the location for 15 years.
2016: In September, the Bangor, Maine, location of Howard Johnson's — apparently a favorite of local resident Stephen King — will close. With its shuttering, there will only be one HoJo's restaurant left, putting the once-mighty relic one fatal step away from becoming an actual part of America's past.
Sometime in the near future: An enterprising restaurant group will no doubt open an upscale theme restaurant modeled after the classic roadside haunt HoJo's. The clam strips will cost $35. People will flock.