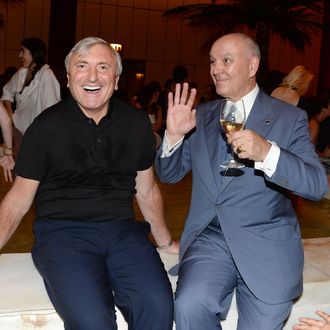 Sued.
Photo: Clint Spaulding/Patrick McMullan via Getty Images
The Four Seasons sadly closed last month, but, as with any dysfunctional family, the restaurant's drama ceases to end. Booted restauranteurs Alex von Bidder and Julian Niccolini have plans to open a restaurant on Park Avenue — just five minutes away from the original, inside the landmarked Seagram Building. But two of their former business partners are now suing to prevent them from using the Four Seasons name and logo. Apparently, they all signed a licensing agreement under a company called "Four Trees Global."
Regardless, the name should go the way of the auctioned-off mid-century furniture — gone forever, and only existing as a beautiful memory. It's strange enough that the Major Food Group has to rename the space once it takes over in 2017. And won't it feel depressing for von Bidder and Niccolini to open a new restaurant that tries to mimic the brilliance of the original? They're better off starting anew.