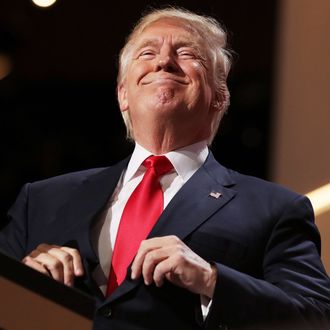 Definitely likes to fork-and-knife a Gordita every now and then.
Photo: Chip Somodevilla/Getty Images
This election's lopsided fundraising is a constant source of Republican heartburn — the $9,744,105 Donald Trump has raised from outside spending groups sounds like a rounding error that happened while adding up Hillary Clinton's $110 million. In fact, 23 PACs have maxed out their political contributions to his opponent so far, but according to Food & Wine, which went digging through OpenSecrets, only five have gone all-in on Trump. Among those five, though, is Taco PAC, a group that self-describes as "a way for individuals to join their contribution and voice with those of other Taco Bell Franchisees and supporters."
While the donation itself is somewhat piddling even for the Republican's cash-strapped campaign (PACs can't exceed $5,000 per candidate), it's safe to say the irony is not. For one, because Taco Bell's mantra involves making a run for a border that Trump would at least attempt to wall off, but also because the chain is owned by Yum! Brands, the parent company of KFC and Pizza Hut, both of which happen to be two of the Donald's all-time faves. Just watch what he's willing to do for a slice of the Hut's pizza:
In other words, his unrequited love for fast food may actually be paying off, however infinitesimally, in the fundraising department. One of the other maxed-out donor groups is something called Pancake PAC, an entity that "promotes the interests of restaurant owners in the field of politics," meaning restaurateurs comprise two-fifths of this donor set. A third industry group PAC (QSR Leaders) has made the eighth-largest campaign contribution — $2,700.
All he's missing now is a check from the PAC representing McDonald's, maker of his sandwich of choice, the "Fish Delight."