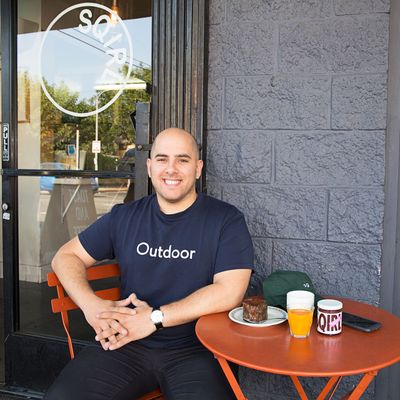 Sqirl "lives up to the hype and beyond."
Photo: Bradley Meinz
As the co-founder of Sweetgreen — a salad chain that prioritizes local and organic ingredients and is rapidly expanding — Nicolas Jammet splits his time mostly between New York City and Los Angeles, where his nine-year-old company his now based. As such, this week of eating saw him hit great places on both coasts, while also making a one-day pitstop in Chicago (fortunately, enough time for him to try Stephanie Izard's Duck Duck Goat). Read all about it in this week's Grub Street Diet.
Thursday, July 28
I'm not a big breakfast guy, in general. Most days, I wake up and find the closest green tea (iced or warm). The first thing I do every morning is chug a big glass of water. I also started my day with an iced green tea from Maman on Centre Street.
Around 10 a.m., I started to get hungry and walked over to Sweetgreen on Kenmare to watch the team huddle known as "sweet talk." I also like to be first in line and eat my version of a salad for a late breakfast or early lunch. I got a bowl with some warm wild rice, avocado, steelhead trout, raw cabbage, almonds, cilantro, and sweet potato. I drizzled a bit of miso-sesame-ginger dressing and a squeeze of half a lime, with lots of black pepper.
Later in the day, after a bunch of meetings, I snuck over to the new Mimi Cheng's dumpling bar, which is opening on Broome Street in a few weeks. I've known [owners] Hannah and Marian since college, and I was proud to see them launch Mimi Cheng's two years ago. They make my favorite dumplings, because they use great ingredients and I don't feel bad after eating a dozen dumplings!
After a long day, I went for a drink and a few bites to Café Altro Paradiso. I drank a glass of rosé, then shared a plate of the fennel salad with Castelvetrano olives and provolone. We also had the sausage with mostarda and arugula. I'm a big fan of Ignacio Mattos's food in general. Also, the team here is always so nice.
Friday, July 29
I headed to Sweetgreen on Kenmare again around 10 a.m. again, this time to try our new salad with spicy green beans and chicken. I drank two glasses of the cold-brewed jasmine green tea, no ice.
I walked down the street to Café Integral to grab an Americano. I rarely drink coffee ever; I'm more of a green-tea drinker.
In the afternoon, I was a bit hungry and wanted something to hold me over until dinner, so I ate half an avocado with a squirt of Sir Kensington's chipotle mayo, lemon, and salt.
I met my friend for dinner at Mimi. We shared a few plates, and the standout was the madai in brown butter, then the turbot with trumpet mushrooms and clams. One of the highlights was also the baba au rhum — they come over and pour rum on the dessert table-side. The food was good, and the conversation was great.
Saturday, July 30
I woke up pretty late, and it was so hot outside that I needed something cool. I drank an iced green tea I had in my fridge and ate half a green EatPops popsicle from my freezer. It's basically a frozen green juice with no added sugar. This held me off for at least an hour or so.
I headed to a group brunch at Mission Chinese Food. We started with some shumai and lettuce cups. Then we ordered the chewy green-tea noodles, which were pretty incredible, along with the red-cabbage salad with sesame, anchovy, and crunch buckwheat. We also got the mapo tofu with ume-shiso fried rice. I hadn't eaten here in a while and was reminded why it's one of my favorite spots.
I spent the afternoon walking around downtown with another friend, sipping on a iced matcha tea. I ended at Sweetgreen, where I grabbed a small salad to bring home and add to an early dinner. It had arugula, cilantro, spicy green beans, and spicy sunflower seeds.
I went home and cooked some lentils to throw alongside the salad, with a runny egg on top. I also ate a few slices of D'Artagnan saucisson while waiting for the lentils to cook. I always keep some D'Artagnan in my fridge.
Two friends came over and we opened a bottle of Bellus Girasole 2012, one of my favorite wines.
Sunday, July 31
I rolled out of bed and went on a run, and I ended at Sweetgreen in Union Square. I got a wild-rice bowl with warm roasted portobello mushrooms, cabbage, heirloom tomatoes, goat cheese, basil, and pesto vinaigrette, with a squeeze of lime. I also had two slices of bread, which comes from Sullivan Street Bakery, with some spicy cashew dressing on the side to dip. I drank two glasses of cold-brewed unsweetened chai tea, no ice.
In the afternoon, I snacked on some homemade hummus I had in my fridge with some cut-up Persian cucumbers. I sprinkled some sumac on them, too.
I met some friends for a quick dinner at Pasquale Jones on Kenmare. Their clam pizza is one of my favorite bites in the city, and it paired well with the half-bottle of La Caravelle Champagne we ordered. We got a simple dessert of figs, mint, and honey. Great way to end the weekend.

Monday, August 1
I was on an early flight to Chicago at 7 a.m. I drank a megabottle of water on the plane, but didn't eat anything. I landed in Chicago and went straight to our new Sweetgreen in River North, which is weeks away from opening.
Around lunch time, I started to get real hungry, so I went across the street to the Freehand Hotel lobby, where there's a Café Integral. I got a quick espresso shot, then ordered the Israeli shakshuka.
After a few more meetings, I had a quick dinner with the other co-founders and our new Chicago leader at Duck Duck Goat. It definitely lived up to the hype. We started with shrimp toast and some dumplings; then we ordered the Peking duck, octopus, and cucumber salad; goat-belly lo mein (yup); and the duck-fried rice.
I drank hot green tea and had a fortune cookie. It said, "Try your hand at a new hobby, watercolors could be fun."
After dinner, we headed to the airport to fly to Los Angeles.
Tuesday, August 2
I woke up early at my apartment in L.A. I called an Uber (I don't have a car in L.A., though I do know how to drive!) and went to Silver Lake to have breakfast at Sqirl. I usually eat here at least once or twice a week. It's a bit far for me, coming from Venice, but definitely worth it.
I had breakfast with my parents. They owned La Caravelle, and growing up in the food business in New York, they taught me so much and inspired me. It was exciting to get to bring them to a place that now inspires me in L.A. We ordered the crispy-rice salad bowl, green-garlic-and-scallion hash, and the ricotta toast with three types of jam. It lives up to the hype and beyond. Also, the service here and team are just as good as the food. I washed it all down with two big glasses of iced Kettl's sencha green tea.
I also brought back a few boxes of pastries for our office, with blueberry financiers and cardamom tea cakes. They didn't last long in the office kitchen.
I got there at 9:30 a.m. and had a few meetings. We have Sweetgreen salads from our Hollywood location brought to the office every day for the whole team, so I ate a Rad Thai salad with avocado added to it.
In the afternoon, I went downstairs to the Blue Bottle to get an iced green tea. They steep it fresh to order. I ate a few squares of dark chocolate from our snack wall in the office.
After a long day, I stopped by Sweetgreen in Santa Monica for dinner for a "Sgt Pepper Grain" bowl, which has warm quinoa, roasted red peppers, citrus shrimp, feta cheese, arugula, parsley, basil, tomatoes, and a cider vinaigrette. It filled me up nicely.