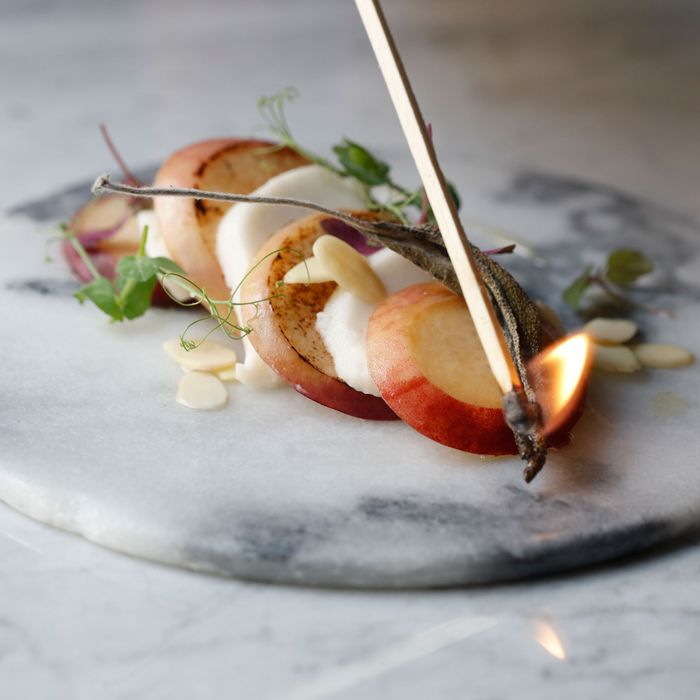 Ladybird's seared-peach caprese.
Photo: Melissa Hom
Stepping outside in New York right now feels like going for a casual stroll on the sun, but there is one reason to be happy it's August. You may have forgotten this while melting on the sidewalk, but right now it's peak produce season: the time of tomatoes, peaches, corn, berries, and so much more. Of course, you can never have enough corn on the cob or peaches, and, thankfully, New York chefs as always are embracing this important life maxim. Here, ten dishes to get you started:
Corn
Where: Atoboy
Price: Part of a $36 three-course prix-fixe
A staple of the banchan spread in Korean barbecue, corn cheese is exactly what it sounds like: kernels of corn cooked in a blanket of gooey cheese. At this modern Korean restaurant, it's gussied up with taleggio cheese, bacon, and doenjang, a fermented soybean sauce.
Seared-Peach Caprese
Where: Ladybird
Price: $12
The new vegan restaurant's spin on caprese swaps out tomatoes for seared peaches, pairing them with a Riesling gastrique, almonds, and aromatic burning sage.
Matafans
Where: Sauvage
Price: $12
The handsome Greenpoint restaurant recently launched a brunch menu that includes matafans, a sort of French equivalent to the Dutch baby, made with corn and buckwheat. It comes with crème fraîche, carrot butter, and drunk berries.
Soft-Shell Shrimp
Where: High Street on Hudson
Price: $15
Too much soft-shell crab? Switch to soft-shell shrimp, served here with pickled shishitos, sliced radishes, and a pool of bright, fresh corn polenta.
Quadrucci
Where: Faun
Price: $22
Vinegar Hill House alum Brian Leth is manning the kitchen at this Prospect Heights restaurant, and his quadrucci comes with the very summery accompaniments of tomato, basil, brown butter, and mozzarella.
Corn Flatbread
Where: Gramercy Tavern
Price: $16
At 22, Gramercy Tavern is undoubtedly the elder statesmen here. New York Times critic Pete Wells's glowing three-star review today, though, is a good reminder that it's still a very exciting place to dine. Hit up the Tavern and order the corn flatbread with lamb sausage and tart green tomato, which, yes, Wells loved.
Seared Pollock
Where: Olmsted
Price: $23
The Prospect Heights restaurant, which received some serious fanfare last week, gently cooks the mild white fish and serves it with a panzanella made, creatively, with tart cherries.
Roasted Duck
Where: Casa Apicii
Price: $27
For peach lovers, here's another way to eat your favorite fruit: with several thick slices of crispy-skinned duck and fennel soffritto.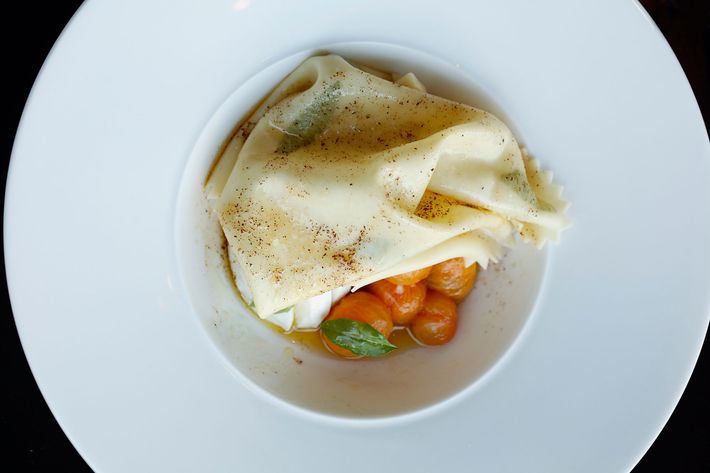 Roasted Corn
Where: Vic's
Price: $12
Roasted corn gets an upgrade at the market-driven restaurant courtesy of balsamic vinegar, garlic, savory, and ricotta.
Gazpacho
Where: Té Company
Price: $13
This gazpacho is made in the southern Portuguese style with tomatoes, cucumbers, peppers, and garlic. It's then steeped overnight with kombu, finished with oregano oil, and covered with sliced tomatoes.
Heirloom Tomatoes and Peaches
Where: Pizza Moto
Price: $17
When it comes to peaches and tomatoes, do you really have to choose one or the other? Not in Red Hook, where Pizza Moto serves the fruits together with opal basil, buffalo mozzarella, olive oil, flakey salt, and, doubling down, a housemade peach-white-wine vinegar.
Summer Squash Bharta
Where: Paowalla
Price: $12
At his new Soho restaurant, Floyd Cardoz serves a slightly nontraditional take on bharta, the South Asian vegetable mash. Made with cubed and moist summer squash, it's a light and refreshing antidote to the heat.