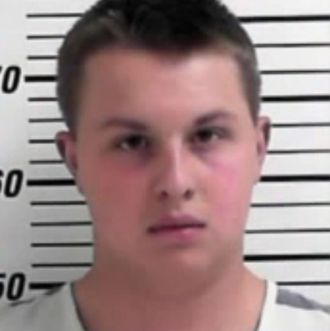 Ukena, in his new uniform.
Photo: Fox13
Police say a Subway employee in Utah deliberately poisoned a cop who came in for lunch on Monday. The officer, a sergeant with the Layton Police Department, was taken to the hospital after nearly running a red light on his way back to the station. Luckily, the other officers quickly noticed the telltale signs of someone under the influence of narcotics: He couldn't "focus on questions being asked" and was having other problems, like "trying to move his arm, [but] his arm wouldn't move when he thought it should."
The officer apparently did manage to recall that his lemonade had "tasted funny." The drink was tested at a lab, where they found evidence of both meth and THC. When police viewed the Subway store's security footage, it reportedly showed the worker — 18-year-old Tanis Lloyd Ukena — wandering off, "returning with something in his hand, and then leaning over the sergeant's drink for an unusual amount of time." Police arrested Ukena a short time later, though he denied putting anything in the cup. Layton PD doesn't have a motive yet, but stresses that this appears to be an isolated incident, and that the officer has been released and is home resting with his family. Ukena, meanwhile, was booked on a charge called "surreptitious administration of a substance," which is a second-degree felony.