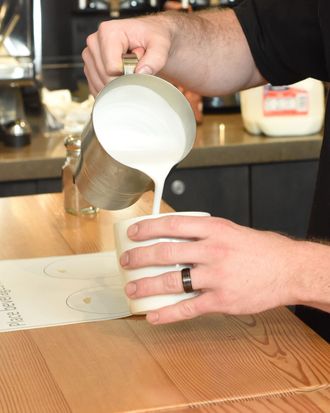 More hours to perfect that proper frothing technique.
Photo: Starbucks
Starbucks has addressed the labor cuts it swore last week don't exist by vowing to give disgruntled baristas more "consistent and reliable" work schedules anyway. Employees started complaining weeks ago that recent cost-saving measures have made the workplace somewhat dysfunctional, killed morale, and resulted in the ultimate company-wide sin: longer customer lines.
The company denied (and still does) purposefully reducing hours, insinuating employees who'd noticed fewer available hours in their stores' scheduling software were maybe too caffeine-addled to think straight or something. Either way, BuzzFeed got a look at a letter that Cos LaPorta, a store-operations vice-president, wrote to employees on Tuesday that re-pledged "to staff our stores and schedule our partners in a way that delivers on our commitments":

As a team, we have looked into every one of the situations that have been brought to our attention and here is what we found: In most situations, partners had a consistent level of hours, according to the payroll system, that they had been working. In a small percentage of cases we found a deficit, and we have addressed that directly with the store to ensure we don't unintentionally impact these partners and our

customers.
He promises Starbucks will work with individual stores to ensure workers have adequate hours, but probably undid some of this goodwill by referring to the labor shortage that's been upsetting baristas for months as "both real and perceived." To back that up, LaPorta claims that after investigating every complaint about reduced hours they received, they discovered that "In most situations, partners had a consistent level." The employee was rarely right would be another way of putting it.
Starbucks wouldn't give specifics about what percent of stores it believes have experienced a labor deficit, or why. But the comments employees are leaving in the company's internal communications portal would suggest hours are less "consistent" than LaPorta's letter contends: "'Real or perceived'? Are you serious? Small number of cases?" reads one. "All of my baristas are hungry for hours, it's at almost every store." Another asks, "How many times is Starbucks Leadership Team going to hear the same complaints and respond with (in a very politely worded missive) 'I'm sorry, but you are lying.' Well, we are not lying. The labor cuts are real."
So far, LaPorta's response has been a vaguely George W. Bush–ian commitment to check back later this week to make sure "we are not leaving any partner or store behind."