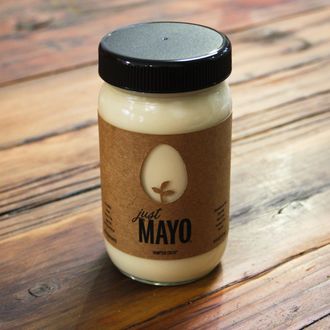 "Just" just keeps getting more complicated.
Photo: Courtesy of Hampton Creek
On the heels of the SEC launching an inquiry into whether Hampton Creek improperly hired people to buy jars of its own Just Mayo spread, now comes even worse news for the embattled biotech darling: Sources tell Bloomberg that the Justice Department has officially widened the net to include a criminal investigation into whether the trick also constituted fraud. According to the publication, agency officials are currently talking to participants in the undercover buyback program, which has been described as an elaborate scheme to artificially heighten demand for Just Mayo at a time when the industry wanted it dead, in hopes of encouraging retailers to order more.
Insiders add that the investigation just began, so it's impossible to say yet if any penalties at all will follow (concurrent investigations by the DOJ and SEC aren't unusual). CEO Josh Tetrick denies to Bloomberg that anything is afoot, saying Hampton Creek has "no reason" to believe the probe is true, though he didn't elaborate beyond that.
What reportedly interests authorities is if the company committed securities fraud by making Just Mayo seem more successful than it was. Tetrick didn't disclose the buyback tactic while on the fundraising circuit in 2014 — a push that managed to secure $90 million from investors. He claims all of their buybacks were for quality-assurance purposes and accounted for less than 0.12 percent of total sales. Hampton Creek is now actively trying to raise even more money so it can produce over 600 vegan products and hit a $1 billion valuation.

If the DOJ determines investors were in fact misled, the agency could pursue charges against Hampton Creek for wire and mail fraud.