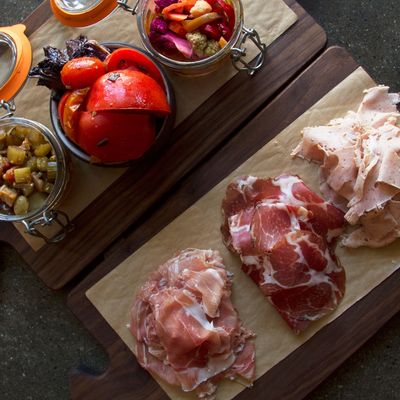 Superlative salumi awaits at Barano.
Photo: Jemma Hinkly/New York Magazine
Al Di Meglio's latest restaurant, Barano, is named, in the grand tradition of ancient red-sauce joints everywhere, for the area (on the Neapolitan island of Ischia, for the record) where his ancestors (specifically his beloved nonna) lived before coming to the New World. With its faux-rusticated décor (oak-wood floors, sun-bleached tiles, etcetera), the comfortable space, on the ground floor of a new condo in the sha­dow of the Williamsburg Bridge, even manages to look a little like the kind of newly opened, slightly garish place you'd stumble on in some modest southern-­Italian village not far from the sea. There is a wood-burning oven in the back, and the last time I dropped by, the bar area up front was filled with light bouncing off the river. The table next to mine was occupied by two diminutive older couples who looked like they were in from the old neighborhood to enjoy a nice plate of scungilli followed, perhaps, by a stiff amaro or two.
But Di Meglio grew up on Staten Island and is a veteran of top French and Italian kitchens around town (Le Cirque, the great neo-pizza-and-pasta joint Rubirosa), and his idea of a red-sauce restaurant is about as different from the one back in the old neighborhood as, say, Danny Meyer's notion of a double cheeseburger is from your average midnight burger down at the local White Castle. Yes, there are meatballs on the menu, although these compact little beauties are made with ground short rib aged for 21 days, for an extra umami tang. There are plenty of pizzas, too, although instead of canned mushroom and the usual orange curls of processed pepperoni, they're decked with fronds of organic Swiss chard and the occasional giant duck egg. The imposingly large house eggplant Parmesan is "wood roasted," the helpful server will tell you, but if you close your eyes, you may, for the first time ever in your red-sauce career, actually be able to taste the eggplant.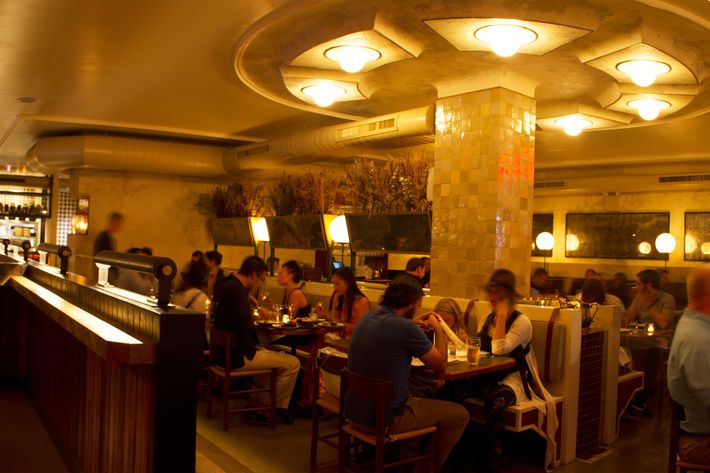 Di Meglio likes to describe his approach as "my grandmother's cooking channeled through the hands of a professional," but like Rich Torrisi, Mario Carbone, and other members of the Nouveau Red Sauce generation, he's a stickler for fancy sourcing (28 of the restaurant's vendors are dutifully listed on the menu), and he has a fondness for elaborate presentation. At this unassuming little neighborhood joint, the creamy hand-pulled mozzarella, made in-house, is served three different ways, including under a little glass dome filled with hickory smoke. The pizzas my tasters and I sampled were exceptional (try the Calabrese layered with red peppers, crumbled sausage, and milky dabs of scamorza), but the most memorable one by far was the white clam pie, which diners are invited to dismember with what look like a pair of giant, hand-forged garden shears.
Unlike the more chaste New Haven version, Di Meglio's decadent clam pie is filled with all sorts of touches from the old neighborhood, including a scattering of the kind of buttery, garlic-suffused bread crumbs you see caked on platters of stuffed clams. You may also detect a taste of the old Staten Island terroir in the linguine (tossed with Manila clams and more garlic-saturated bread crumbs) and in the bucatini, which the kitchen smothers the way Di Meglio's grandmother used to do, in a deeply flavored simmer of tomatoes, braised rabbit, and fresh twigs of oregano. I imagine the Di Meglios also enjoyed the occasional goat ragù for Sunday supper back in the day, although probably not the way it's prepared here, with a radical touch of grapefruit to cut the richness. Ditto the charred octopus, which was prepared in the classic old-school way on the evening I enjoyed it, with a trendy, new-school garnish of pickled radish and mint pesto.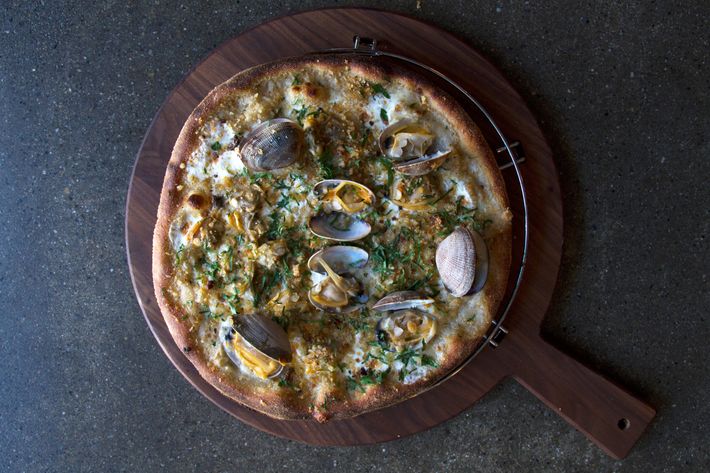 The menu at Barano manages to feel refreshingly abbreviated by traditional gut-busting red-sauce standards, but by the time you work your way to the heavier entrée portion of dinner, you may still be ready for a digestive nap. This is not such a bad thing, since most of these standard-issue, "wood-fired" preparations (grilled whole fish, roast "Amish" chicken, a rhino-thick Berkshire pork chop smothered in a wad of peppers) don't transcend the inventive fireworks earlier in the meal. An exception is the tender, crackly skinned leg of lamb (it's spit-roasted for two hours and packed with a toasty bread stuffing mixed with pine nuts and raisins), although if you're looking for a slightly lighter option, the aforementioned eggplant Parmesan works just as well as an entrée.
Dessert is usually a colorful afterthought in the great, bloated red-sauce pageant, something to applaud briefly, then push around with your fork until the restorative shots of espresso arrive. But Di Meglio and his cooks spiff up this tired parade with all sorts of elegantly rendered treats, including a frosty, bracing affogato made, I'm guessing, with Fair Trade Brooklyn-roasted coffee beans, a properly wobbly panna cotta garnished with candied orange peels, and cannoli so superior to the usual soggy, Italian-deli version that it will make you wonder whether you've ever tasted the real thing. The sugary shell is fried in-house and brightened with a hint of Prosecco. Two kinds of ricotta are used to concoct the smooth, sweet, cinnamon-infused filling, which is folded with chocolate and chewy bits of traditional Italian candied fruit that Di Meglio gets, just the way his grandmother did, from the old candy masters back in Naples.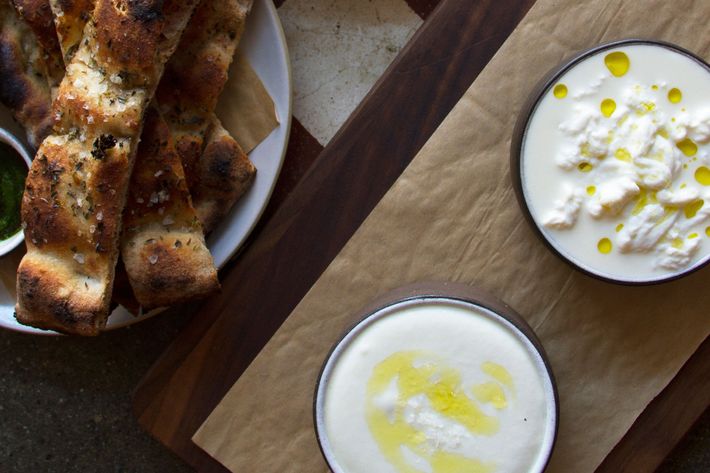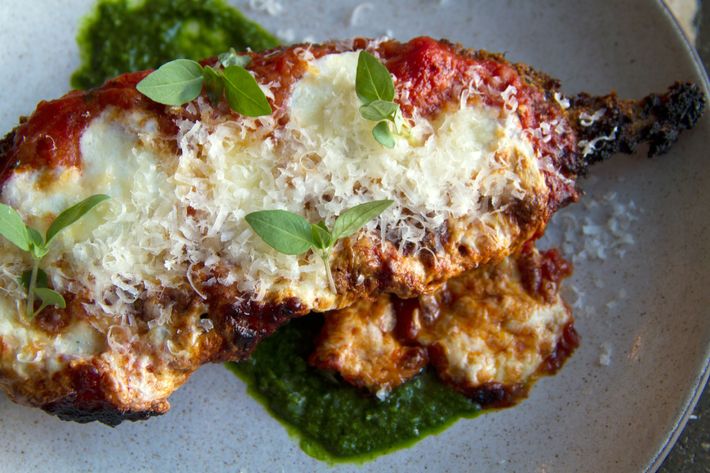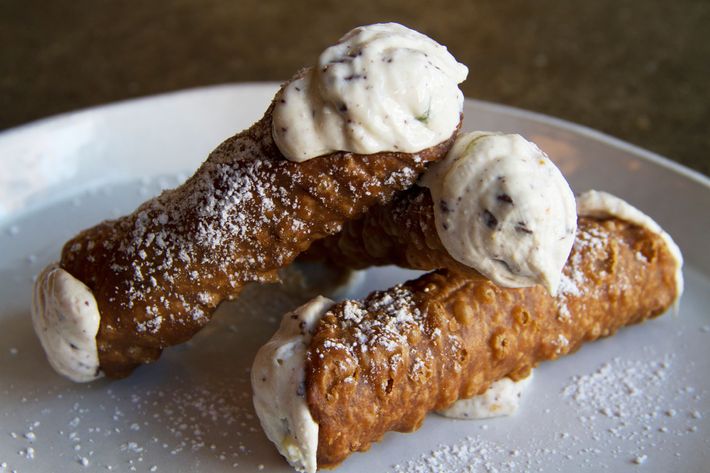 Barano
26 Broadway, nr. Kent Ave., Williamsburg; 347-987-4500; baranobk.com
Open: Dinner nightly.
Prices: Appetizers, $5 to $18; entrées, $16 to $28.
Ideal Meal: Housemade mozzarella, linguine with clams and/or bucatini with rabbit ragù, Calabrese and/or vongole pizza, leg of lamb, eggplant Parm, cannoli.
Note: Pay special attention to the wines, which pack considerable punch for an establishment this size, and to the unearthly mortadella, from the great Smoking Goose charcuterie in, of all places, Indianapolis.
Scratchpad: One enthusiastic star for the savory neo-red-sauce treats (the pizzas and pastas in particular) and another for the desserts.
*This article appears in the September 5, 2016 issue of New York Magazine.