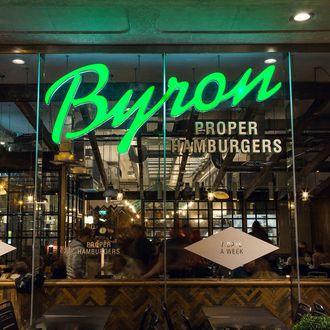 Making their skin crawl.
Photo: Courtesy of Byron Burger
Activists let thousands of bugs loose this weekend inside two outposts of a trendy British burger chain that's been accused of treating migrant workers poorly. They called their literal plague — 8,000 locusts, 4,000 roaches, and 2,000 crickets, according to the magazine Huck — a "direct action" in response to a sting that Byron orchestrated last month to catch employees who were working in the country illegally. They apparently just strolled in with bags and untied them to release the creepy crawlies, which ultimately caused two outposts to close down and created just general "chaos," The Guardian says. The bags' contents obviously caused a health-code problem or two:

The chain has been getting an earful ever since calling a fake food-safety meeting back in July so that authorities could swoop in and arrest migrant workers in the country illegally. Employees were supposed to come get trained on proper burger-cooking temperatures, but instead immigration officials materialized and hauled off 35 workers from Albania, Brazil, Egypt, and Nepal. The two groups who organized the protest — London Black Revs and the Malcolm X Movement — said in a Facebook post they felt like people needed to know "what cockroaches really look like" ("cockroach" has been used by certain British media to refer to migrants):

As a consequence, we have released many thousands of live cockroaches, locusts and crickets into these restaurants. We must defend these people and their families from such dehumanised treatment. Byrons Burgers are company that has made millions off the backs of migrant labour has duped in its own

workers.
Plenty thought the stunt maybe wasn't the most effective way of punishing executives who never suffered through any actual bug attacks — something the activists did seem to feel kind of bad about in their statement:

We apologise to customers and staff for any irritation, however, with the growing climate of racism and xenophobia, a line must be drawn and we say, enough is enough. No one is illegal. We've acted today in solidarity with our brothers and sisters who are being deported

daily.
Byron's reps made it clear the company's immediate top priority is "work[ing] with local police to minimise the risk of further incident," but this flexing wasn't much of a deterrent: There's an even larger protest planned at one of the same Byron locations today. The undoubtedly nervous chain originally asked would-be demonstrators to please "respect the safety of customers," although it quickly abandoned that line of thinking, too. With more than 1,300 people now pledging to show up, the restaurant announced it's been forced to close because of a very funnily timed "technical issue."