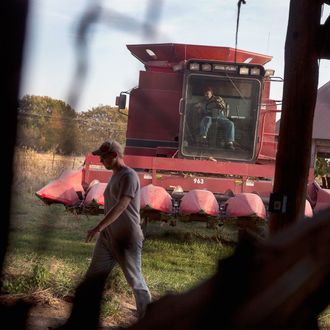 It's getting tough out in Iowa.
Photo: Scott Olson/Getty Images
Three-dollar-a-pound ground beef and $1.50 egg cartons mean deliciously cheap dinners, but the low prices attracting shoppers are fast becoming a nightmare for supermarkets and farmers. Analysts predict the slump will soon count as the worst stretch of food-price declines since 1960 — great for anyone planning a Trader Joe's binge, of course, but way less exciting news for people whose livelihoods depend on selling those items.
The overall cost of eating at home has slid 1.6 percent this year, but for grains, dairy, or even meat, the drops have been much greater: The per-bushel price of corn has fallen from $7.80 to $3.11 in four months. Wheat is at a 16-month low of $5.18, down from about $12 at its peak, and soybeans have slipped from $16 to $8.59. Meanwhile, farmers have been throwing out millions of pounds of excess milk, and the U.S. government has agreed to bail out the cheese industry by buying up $20 million worth of surplus products just sitting in cold storage. A corn farmer tells The Wall Street Journal this year is shaping up to be his least profitable in two decades, and that there's just no way the industry can "withstand" these prices, which are the result of an unlucky mess of factors like high crop yields, less demand from China, and plunging oil prices.
Meanwhile, major grocery chains — Costco, Whole Foods, and at least four others — reported lackluster quarterly earnings because of all this "food deflation," which the Journal reports is the first time analysts can recall "so many grocers singling out deflation as a big problem." There are two bright spots, though, if you want to call them that: Fruit prices are up, but largely thanks to California's drought. And one retailer brags that the "ongoing deflationary impacts" have actually been a real sales boost — but that company, naturally, is Walmart.