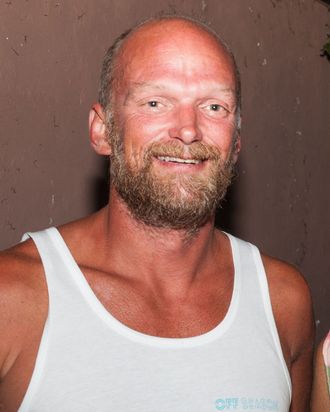 Innocent, he says.
Photo: Miachel Breton
Whitney Aycock, the owner of Rockaway Beach's Whit's End, infamously gives very few fucks, earning him the nickname the "pizza Nazi." But a no-slice-no-nonsense attitude is much different than actually breaking the law — which is what allegedly happened in mid-August, when cops accused Aycock of growing pot at his restaurant. From the start, Aycock has insisted that his herbs were the legal kind — lemon verbena, catnip — and that this is all a big misunderstanding. He plans to fight the charges (disorderly conduct, obstructing governmental administration, growing unlicensed cannabis) in court. Grub caught up with Aycock on Saturday night, while he made dessert for a benefit dinner, and he shared his side of the story:
So last week, some interesting news broke.
There was an episode that happened at Whit's in Playland, where there was a task force that came — a task force called Quality of Life Task Force. They said that people called 311 repetitively, and when you have enough 311 complaints, a Quality of Life Task Force comes by and rightfully checks it out. That happened at Playland the other day — Friday evening last week.
The 19th of August. In dealing with Playland, they quickly came by my place, thinking my place was Playland. They asked me for my liquor license and I was like, "Yeah, it's right here. But we're not Playland. Whit's End is the name of the restaurant." No problems, a quick couple of questions, out the door they went.
Twenty-five minutes later, I'm outside saying good-bye to my friends, locking the doors. Two people came up to me and demanded to know where Whitney was. I did not know who was asking. Nobody said, "My name's Joe; my name's Andy; my name's Barack Obama; my name's Donald Trump, my name's Hillary Clinton." There's a time frame that I need to have my lawyer clarify, so I'm not going to say the exact events that happened after that.
Then police accused you of growing marijuana.
They assumed, allegedly — I have no idea. I did not plant anything. I did not grow anything. I have no clue what the hell they're talking about. And I don't think that was ever even relayed to me, what they were putting handcuffs on me for, etc. I think the right thing will come out, with due diligence and intelligence.
And hopefully with clear communication.
I can talk to you and you can talk to me, but say, "Hey, my name is Whitney." It doesn't have to be this antagonistic thing. The repercussions of this … we live in a country where we're presumed innocent until proven guilty.
Well, once the press gets hold of a scandal like this, it goes viral fast. Especially because you have a reputation for being rebellious.
It doesn't mean I hate the police. I disagree with a lot of the ways that current police mentality is expressed by who they hire. That doesn't lead to a society with equality. It's not a police state. I pay taxes. I pay child support even.
What now? How do you plan to defend yourself?
One side of this has already made an aggressive charge. I am going to deal with this in a very educated way.
Is your business open per usual?
Oh, I never closed. There was no closing. Even the day that they were there. It was like, this thing that they found … what? Was that an epiphany? Did God tell you to assume that I grew that? Did the devil? What? How do you come up with that conclusion? Word of mouth? Malicious attack? 311? What?
… I think that there's a crazy sensationalism in our society now that is all based on that TV factor, that noise factor, that radio factor. There are probably ten words that describe sensationalism in our daily life — theft, murder, disease, corruption, and more. And that's bullshit. Total bullshit. I think that definitely people need to read more books, listen to better radio, watch better TV. Or maybe start their own radio show, their own television show, their own form of media that reports the right thing.
Will this go to court?
Yes. I'm going to protect my rights, my integrity, my firm belief of innocence. One hundred percent.