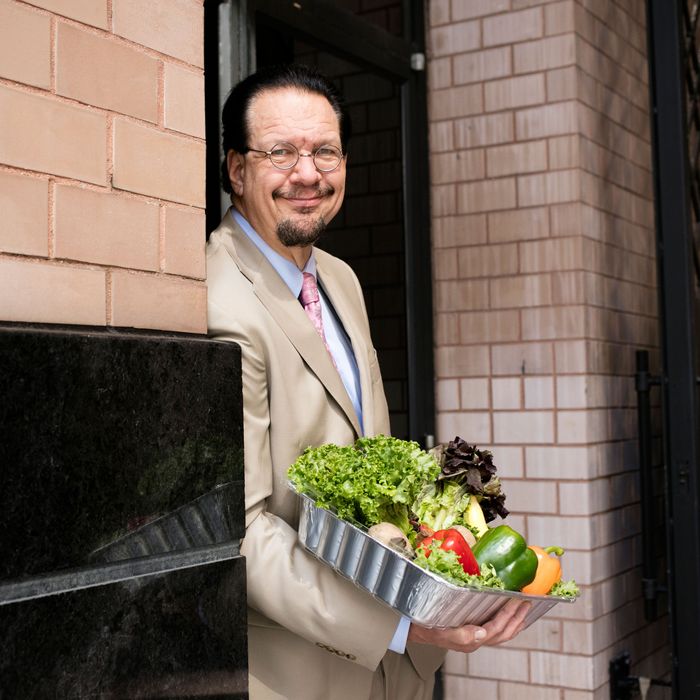 "I learned to cook for TV and got pretty good at it, but would never cook like that at home. It would kill people."
Photo: Melissa Hom
Penn Jillette is best known as half of the magic-and-comedy duo Penn & Teller. He's also an author, actor, radio host, and co-creator of The Aristocrats. But he's recently taken on a more unexpected role: weight-loss authority. In fact, he's now the author of Presto!: How I Made Over 100 Pounds Disappear. "I've written eight books, but this is the only book people asked me to write," Jillette explains. "They said to me, 'How'd you lose the weight?' Because when you lose a third of your body weight, it's pretty noticeable." So, what's the secret? Well, it started with potatoes, mostly because they're funny.
Friday, August 5
I was wicked fat. I was over 330 pounds. I don't know the exact weight, because I didn't weigh myself at the heaviest. I got really sick. My blood pressure was, you know, like U.K. voltage, over 200 — insane.
In just a few months in early 2015, I lost 100 pounds. The way I did it was very extreme. I did a mono-diet for two weeks, which could have been anything. I did potatoes because they're funny. Could have been corn, could have been beans, but I didn't want a lot of fart jokes. A mono-diet is not very entertaining, or social. No one ever calls up and says, "Hey, Penn, I just landed in Vegas, let's have a potato." For the next three months I did salads, and vegetables, no fruit, no nuts, and then essentially I was on the Dr. Joel Fuhrman diet. Now it's been 17 months at my target weight and the goal is to keep it off. I've changed everything about how I eat. Turn on the TV, look at the billboards, read magazines — see all that food? I don't eat any of that. I eat no animal products, no refined grains, and extremely low salt, sugar, and oil.
This diet really starts Thursday night, but it's technically Friday. I couldn't sleep because my schedule was all screwed up by getting up at 5 a.m. New York time (which is 2 a.m. Vegas time, which is an hour before I go to bed) to do radio interviews and appear on The View. So, when I should have been sleeping I got up and ate a bit. I had a handful of unsalted, dry-roasted peanuts with Tabasco sauce. Just splashed on into my hand. I guess I had two handfuls. I love eating spicy in the middle of the night.
The peanuts were very filling so I didn't eat the rest of the day. One thing I learned from my lifestyle change is that I don't have to eat all the time. When I don't eat, I get focused and clearer and … well, happier. I took the day off from eating. I still drank a lot of seltzer and decaffeinated coffee, but I didn't really have any meals. I had a book signing in Boston that night and had to do about an hour speech and Q&A and doing it without eating made it really easy to be fast and funny and focused. Also, I was talking about radically changing my relationship with food, and what better way to talk about that than to do it after a day of no relationship with food?
Saturday, August 6
I finally fell asleep even on the new time schedule. I got up feeling great and flew to Chicago. There was a lot of travel, trains, and cars, and hotels, and I was in a coffee shop working on a comic book that I'm writing before another speech and book signing. It had been about 36 hours without food, and I wanted to eat. Sometimes Mexican places are great. I went to a Mexican place and asked if they had "vegan" beans and rice. There was a language problem. I asked if they had "vegetarian, no meat or cheese." They said yes. I sat down and ordered a "vegetarian burrito." It came and I said, "Is this rice vegetarian?" and she said, "Yes, I'm completely sure; it's just chicken stock." I figured I'd skip the rice, but what about the burrito? I took one bite, and it was so salty and greasy. Two years ago I would have loved it, but now it was like chemical salt with crankcase oil. I didn't eat any of it. I waited until she wasn't looking, paid with a huge tip, and snuck off.
I went to the Indian place across the street, and they had a vegan menu. I ordered vegetable vindaloo, dal makhani, and plain rice. She asked if I wanted it mild. I said, "No, very spicy." She didn't believe me because my heritage is Newfoundland and we aren't known for our spices, but I pushed, and she delivered it very spicy. It tasted so good. One of the wonderful things about not eating all the time is that, when you do eat, food tastes great. Hunger really is the best spice.
I finished my little speech and went to the Chicago airport. Eating at airports for me is fresh fruit. I found two containers of fresh pineapple. I can eat well in America.
Sunday, August 7
Really still kind of Saturday night. I was so happy to be home in Vegas and have the food I eat that I went a little crazy. I had watermelon. Usually when I eat watermelon it's a joke amount, like a whole watermelon, cut up and very cold. Watermelon is magic. It's like candy but really good for me. There seems to be no limit to the amount of watermelon I can eat.
I took two tablespoons each of flax and chia seeds and put them in a coffee grinder to grind them up and then drank it in a glass of water. Everybody thinks it's stupid, because you're supposed to add flax to food. But it's like drinking cereal, and I love it.
My dessert in the middle of the night was the idea for which I will win the Nobel Prize. I invented this. I took a lot of blueberries, like four big containers (this one is expensive), rinsed them off and then put way, way, way too much cayenne pepper on them. Way too much. Lots. I shook that around and then added way too much cocoa powder, no fat, no sugar. It's like a Mexican flourless chocolate blueberry cake. It's my favorite food. I went to bed with my mouth on fire and my belly full.
I slept and got up and had a day off. The first day off in months. At about 9:30 at night, I had an insane amount of watermelon. Then I had my flax and chia and a whole container of cherry tomatoes while I waited for my soup. My wife had left me some dill pea soup. It's my comfort food now, grilled cheese for the 21st century. I heated it in the microwave and had a big, big bowl of it. Really healthful, really tasty, warm and happy. I finished it off with the great cocoa spicy blueberries. Again, a lot.
Monday, August 8
At about 4:30 in the afternoon I took a container of spinach and spring vegetables, cut up an onion on top, and poured some apple-cider vinegar on it and called it a salad. My wife makes great salads. I don't, but this was fine.
I don't really cook at home. I pretended to know how to cook to go on cooking shows, because that's how I sold my show. A chef friend taught me how to cook for TV, and I did very well. Cooking for TV is very different. Throw away everything that's not perfect. Also, be extreme with the fat, sugar, and salt, because when people are taking one mouthful you've got to jack it up even more. So essentially what you want for TV cooking, where you're going to be judged on one mouthful, is you want to take a stick of butter, roll it in salt, put a little powdered sugar on it, and serve it to them. But call it something else. So I learned to cook for TV and got pretty good at it, but would never cook like that at home. It would kill people.
I had another glass of flax and chia and two big bowls of bean, corn, and tomato stew that my wife had left for me. I put nutritional yeast on top to bring the funk and some Tabasco for a kick. I ended that with a lot of blackberries covered in cinnamon. I eat a lot of food.
Tuesday, August 9
Late Monday night I was hungry after our Vegas show at the Rio. I was in bed, so I got up and had a hummus wrap with Tabasco. This was store-bought and a bit too salty. That wasn't enough, so I had a bunch of spoonfuls of peanut butter. This is my downfall — too salty, too sugary, too high fat, oil, and salt, but so good. I ate so much it would make you sick. It made me happy.
At about three in the afternoon, I had a lot of watermelon, a lot of blueberries with cayenne and cocoa, and my flax and chia. I should have had more, but cooking is too much work. I'll go to the Rio and let them do it.
Backstage, at 6:30 p.m. before our show, I had room service bring me brown rice, to which I added nutritional yeast and Tabasco, about three pounds of steamed spinach that I had with vinegar, steamed carrots, asparagus, broccoli, and four ears of plain corn. You may notice throughout this diet that there's no alcohol. I've never had a sip of the stuff, or a recreational drug, or caffeine. I'm essentially just a Mormon, except for the no-god thing.
At 12:15 a.m., I had watermelon, honeydew, and cantaloupe, and then air-popped popcorn while watching Preacher with friends. Just entertainment eating. Not really what I should be doing, but I like it. Oh, and this week I took off six pounds and I'm down to target weight. I loved all the food, and I feel great.
I was full, but I still had some peanut butter for bedtime.