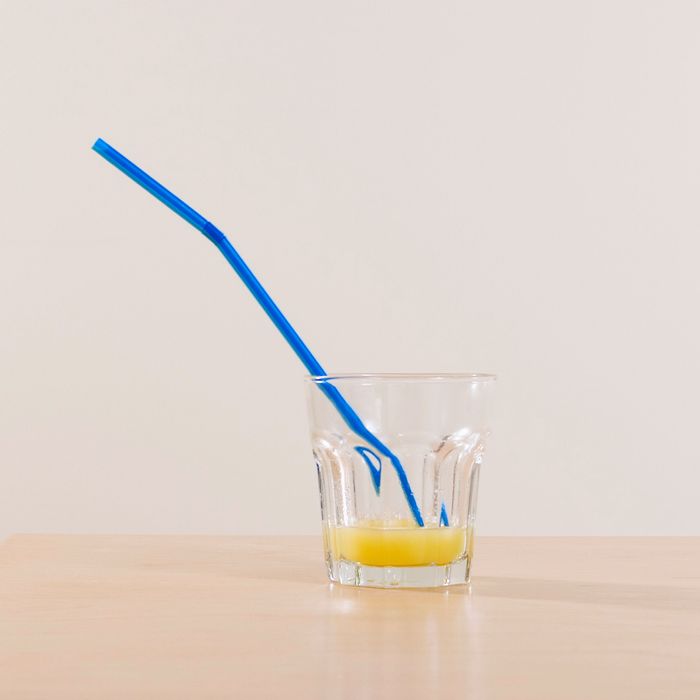 It's the end of the glass for orange juice.
Photo: First Light/Getty Images
Once upon a time, in a more innocent age of jumbo corn burgers and jello salads, ailing Americans knew they didn't have to visit the doctor, they just needed to guzzle some orange juice. How times have changed. Despite the valiant efforts of industry stalwarts like Tropicana and Minute Maid, sales for orange juice have plummeted and, even more depressingly, the market for frozen-orange-juice concentrate has thawed and melted away.
Since the 2000–2001 growing season, orange-juice sales have fallen every year and consumption has dropped by 45 percent. Grocers have responded, as the sugary stuff ceded almost 10 percent of its shelf space from 2012 to 2014 alone. Presumably that space is now occupied by charcoal-infused green juice or ginger-flavored kombucha or whatever.
The main problem, of course, is that commercial orange juice is loaded up with sugar. There are 24 grams of sugar in just eight ounces of Minute Maid 100 percent orange juice. But the OJ Mafia argues Americans shouldn't be concerned about orange juice because the sugar in it is awesome and, executive director of the Florida Department of Citrus Shannon Shepp tells BuzzFeed, not added in some artificial capacity the way it is in soda. The fact is, though, the days when orange juice reigned were simpler times, and there's no going back.