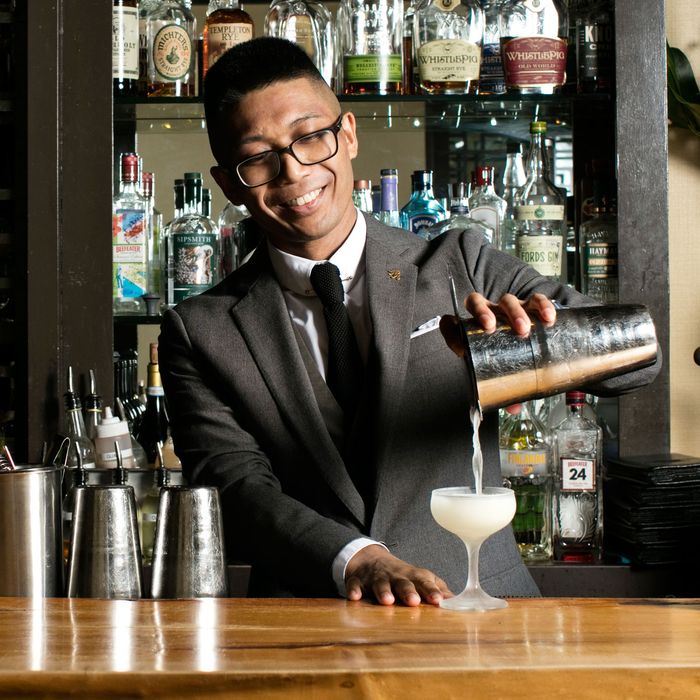 Ricky Agustin, pouring a drink at Pegu Club.
Photo: Melissa Hom
Do not be fooled by Ricky Agustin, the dapper and debonair 27-year-old assistant general manager at New York's storied Pegu Club. Yes, he will adjust his vintage tie clip, and smooth his fitted vest, and happily explain that the cardamom tincture used in the bar's Ramos gin fizz takes two weeks to make. His golden lapel pin will glimmer, and he will charm you with his smile and his dimples. But underneath all that polish is a dude who loves Crocs, Burn Notice, and Cheetos.
In fact Agustin's grasp of, and love for, high-low pairings borders on brilliant. When he first heard that Spaniards in Barcelona enjoy flautas Ibéricos — sandwiches stuffed with some of the world's most revered ham — with orange Fanta, he just shook his head in disappointment. "It'd be better with Orange Crush." At Chipotle, he does that trick where you ask for two half orders of meat so you can make a super-burrito. At Carbone, meanwhile, he goes for the tagliatelle with black truffles. He confesses a love of Dick's Drive-In, the burger chain from his native Seattle. ("I know it's gross, but I love tearing into a big bag of Dick's.") And he readily admits to an affinity for Cosmopolitans, just like the Samantha he is. "I love Cosmos," he says — verbatim! "It makes me sad when I go to a great bar and order one and they refuse. These things can be done right, just like a Mudslide can be done right." This is a guy whose geek-chic arcana stretches to include both obscure cocktails and obscure Pokémon.
Agustin joined Pegu in 2013, and, about six months ago, began working at Suffolk Arms — itself a powerful pastiche of new New York authenticity — and rejoined Pegu exclusively this month. "He could be the best bartender in NYC. Easily," says Giuseppe González, Suffolk's owner. Agustin, in other words, is equal parts decorum and dopeness. He may have the Prohibition-inspired look and repertoire of your everyday top-shelf mixologist, but he is no clone. He's more talented than that. Meet mixology's doppelgängsta.
His background, remarkably, is rooted in that other Seattle chain: Starbucks. Even there, he perfected his craft. "I used to drink a mocha with one pump of raspberry and one pump almond syrup. When you mix those two flavors, you get cherry. That was something you weren't taught officially, but a pointer that career Starbucks people would share with the new hires," he explains. It was at the ubiquitous coffee chain that Agustin also began to understand the need to keep his regular customers happy. "Coffee orders are like martini orders: Guests are very particular about both. They prefer one and a half pumps of one flavor of syrup, or a rinse of this type of vermouth or a splash of that type of milk with a certain percentage of fat content. It's that type of custom work that I became accustomed to."
Agustin is Filipino-American, a culture where an ube milkshake will be garnished with Rice Krispies, pork ribs will be glazed with Sprite, or pinakbet might have some ranch dressing tossed in. Like so much of the world's truly gestalt cuisine — Peruvian Chifa, Louisiana Creole, Caribbean Callaloo — he recognizes that what might be mocked as lowbrow by one group can inform and improve what is celebrated as highbrow by another.
At Starbucks, he developed a rogue "Frappy Hour" where he perfected his approach to frozen drinks. "I doubled down on Starbucks in a big way. I really threw myself into it. They called me Pretty Ricky because I took this five-star approach to everything." He loved an off-menu drink called the Undertow, which was a layered shot of espresso hidden in ice-cold milk kissed with a syrup of choice (his is cinnamon dolce).
He moved from coffee to cocktails in Seattle, but left soon after to take a bartending job at Pegu. "So many people, I just want to tell them, 'Relax! Relax! Ricky knows how to relax,'" says Audrey Saunders, Pegu's owner. "Any good person in hospitality knows the importance of warmth, of curiosity. But so many are hiding behind eyedrops and costumes. It's correct math, but not elegant math. Ricky is elegant. He's relaxed. He comes to the kismet of the situation. He trusts in simplicity because he knows you can find joy and excitement there."
For now, though, he isn't regularly mixing drinks at Pegu. Instead he's on the floor, as well as developing recipes and planning the menu. He's tweaking a frozen coffee drink, and "playing with the idea of a boozy cognac with black-cherry soda." He also served as bartender at a recent pop-up event, where he offered something called a Stony Negroni, which was mixed in a bong, its bowl packed with chamomile tea nuggets before he ripped a hit, thereby infusing the Negroni with the tea smoke, which lay potionlike atop the poured-out drink.
Gimmicks aside, Agustin knows what makes a good drink — and how that truly great drink should make customers feel. "It should make your nipples pop," he says, unintentionally echoing a quote about Tina Brown, the great high-low impresario who was said to run stories when they did something similar. Agustin, however, thinks about it a little more, and amends his statement on a great drink's effect: "It should give you a chub, honestly."