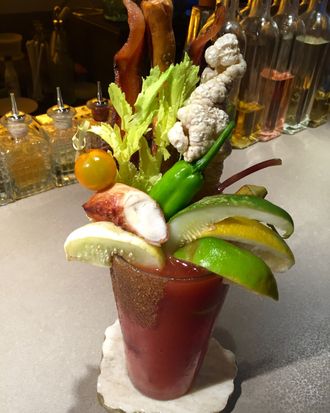 Photo: Courtesy of Kingsley
The Bloody Mary has suffered through a number of indignities during its time on Planet Brunch. Overexcited bartenders have, in recent years, seen fit to garnish the once-dignified drink with anything and everything: pepperoni pizzas, artisan cheese, bacon and cheddar sliders, whole fried chickens, whatever. Now, however, one bold restaurant is putting the power in your hands, unleashing a build-your-own-Bloody bar that offers all sorts of stuff. The only limits, really, are your own imagination and your Instagram followers' tolerance for this kind of nonsense.
You will find this frankly genius development at Kingsley in the East Village. Allegedly an ode to the chef's roots in the Midwest — not only the heartland of America but also a haven for Bloody Monsters — it will set you back $14. For that price you will get a pint glass, a cocktail, and access to a spread of roughly 20 toppings. The selection changes, but current offerings include bacon strips, roasted ham, pretzels, cheeses, and marinated octopus. The image you see above is the restaurant's rendering of the infinite possibilities that await you, but it seems like some industrious New Yorkers will be able to build — and 'gram — versions that put this monster to shame.