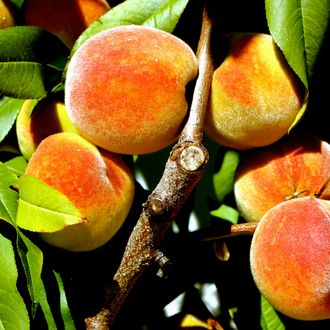 Probably going to come from Georgia this year.
Photo: Judy Bishop/The Travelling Eye
New England's freak-show weather earlier this year — 40 degrees below zero on Valentine's Day, 70 degrees above it a few weeks later — is having precisely the toll forecasters feared on the region's fruit supplies. Peaches are the main casualty, and in a report in today's New York Times, farmers in Connecticut and the Hudson Valley describe their losses as being a "complete wipeout."
Mostly, blame one unseasonably arctic blast: the nightmare that hit the weekend of February 14, which farmers in the area have dubbed the "Valentine's Day Massacre." Extreme temperatures froze buds on peach trees that were already budding prematurely, thanks to many weeks of unusually mild weather. The damage affected fruit stretching from New Jersey to as far as Massachusetts, where experts estimate 90 percent of the peaches were killed in certain places. Farmers are having to write off as much as $400,000 in losses, and the Times says it isn't uncommon to walk through an orchard and see "not a single peach on its trees." In one depressing bit of color, it adds a big peach festival in Connecticut has been forced to change its name this year to the not-at-all-exciting-sounding Corn Fest.
Oftentimes, there's a minor upside to weather catastrophes (think about how a warming climate improves the quality of Bordeaux wines, up to a point), and the positive spin here is that an off-year like this usually means trees will be particularly fecund the next. Also, this spring weather has worked out especially well for apples and pears — fall fruits that, by necessity or not, orchards now say they plan to promote "pretty heavily."