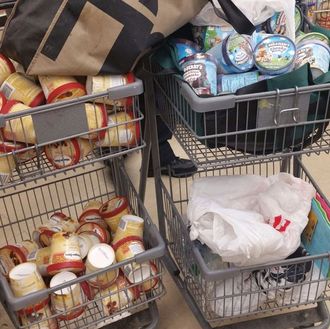 This week's plunder.
Photo: John Catsimatidis/Twitter
Someone has it out for the ice-cream aisle at Gristedes: The Post reports that, this week, a "Bonnie-and-Clyde duo" carted off 80 cartons from the grocery chain's Chelsea store (somebody caught them in the act with their cell-phone camera), and billionaire owner/perennial mayoral candidate John Catsimatidis is fed up with this nonsense. "They keep stealing it because it's an easy item to sell,'' he tells the paper, openly speculating that the bandits are likely a bunch of desperate junkies. But whatever they are, he wants them arrested, so he's offering a reward to anybody who helps make that happen:
The MO of these bandits is to steal pricey brands (usually Ben & Jerry's or Häagen-Dazs), then resell it for pennies on the dollar to bodegas that can suddenly run "specials" on bargain pints of Cherry Garcia or whatever. The Post adds there have been more than 250 complaints about ice-cream theft so far this year, and 130 arrests.
Even still, there's a hitch to this would-be criminal scheme that doesn't affect art-world bandits: The product in question — the ice cream — often begins melting before thieves can get their pilfered pints to the street corner, so the stolen product that ends up on bodega shelves could be a freezer-burned health risk.