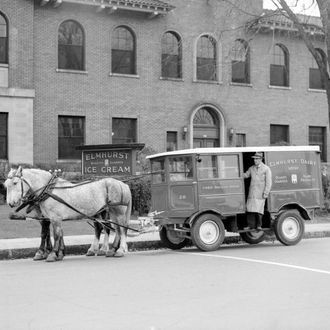 Been doing its thing in Queens since 1919.
Photo: Conrad Poirier
A little-known fact about New York City is that a good amount of milk was once produced here. The area's dairy heartland is upstate, but for centuries — literally since the Dutch were calling it New Amsterdam — somebody in this city has been bottling milk, and for most of that time even raising the dairy cows. Sadly, that era will come to an end on October 30, when Elmhurst Dairy, the last remaining producer inside city limits, closes its 80-year-old plant in Jamaica, Queens.
It's been churning out milk for 97 years and, for most of the aughts, supplied the milk you drank from carafes at Starbucks around town. Its products are currently in 8,300 local stores and 1,400 of the city's public schools. CEO Henry Schwartz says the family-owned and -run company just isn't profitable anymore. The plant has stayed open "long past the years that it was economically viable," he tells the Times, adding, "The family did so at a very high cost, but is unable to continue to do so without ongoing losses."

The closure will put 273 people out of work, and a dairy-industry analyst predicts that without Elmhurst's almost 1.5 million gallons coming in every week, the price of milk citywide could go up by a nickel per quart. Maybe even worse, according to Schwartz, is the fact that now it's "going to come from out of town," too.