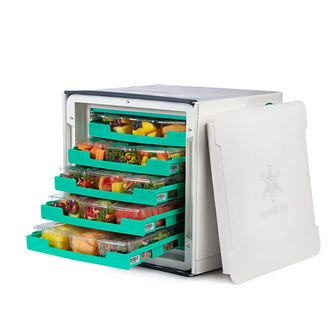 Sort of like being mailed a mini fridge.
Photo: FreshRealm
The bane of America's meal-kit obsession is the tremendous amount of waste the deliveries create, and one company in the biz is rising fast thanks to a contraption it says eliminates this problem. As any Blue Apron or HelloFresh user can confirm, it's not uncommon to unpack a kit, then haul a depressing array of plastic bags, clamshells, foil, printouts, gel packs, and insulated liners to the recycling bin, in addition to the bulky cardboard box itself. Blue Apron in particular has tried to address this problem by ensuring contents are recyclable and even allowing customers to return packaging to the company, but packaging can only get so minimal before every kit starts arriving as a giant casserole that's maybe also teeming with off-menu pathogens.
That's where FreshRealm's "Vessel" comes in. FreshRealm's customers get their kits in this nice, reusable, indestructible-looking box, but the company quickly realized there was also bound to be a larger market for ecofriendlier meal-kit shipping, so it's begun offering the containers to competitors, too. (It recently signed on Terra's Kitchen.) There's nothing complicated or fancy about the Vessel, either, and it's incredibly convenient on the clientele — a group often so busy, there's no time to shop for and prep ingredients. Per the Times:

The boxes are 17-inch-square cubes made of polyurethane. Inside, five drawers house metal plates that help maintain the desired temperature. The drawers can hold up to four grab-and-go meals or the ingredients for two meal kits

…

The boxes are delivered by FedEx. Once the food is removed from the box, the customer just puts the container back together and slaps on a return label. FedEx picks it up and returns it to FreshRealm. The company then sanitizes the box and puts it to use

again.
Best of all, there's less fossil-fuel use, too, since these contraptions don't require an army of refrigerated trucks. "Our boxes are able to ship everything from a heat-and-eat lasagna to a grab-and-go salad and fresh-cut watermelon at 32 to 41 degrees Fahrenheit," says CEO Michael Lippold — which, he's just throwing out there, puts any meal-kit company at "a massive competitive advantage."